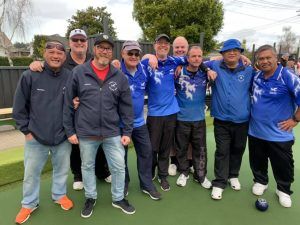 Thanks to everyone for a great three weeks of section play in the Auckland Winter Interclub. We finished the final round Sunday and now look forward to the Finals this weekend at Epsom Bowls.
Congratulations to the following sides going through to our Finals this Sunday.
Section 1: Howick Red 22pts 35 NTOS
Section 2: Onehunga & Districts White 21pts -2 NTOS
Section 3: Carlton Cornwall Black 27pts 85 NTOS
Section 4: Mt Albert 24pts 79 NTOS
Section 5: Epsom 24pts 102 NTOS
Section 6: Pringle Park Thunder 21pts 130 NTOS
AND going through next best none section winners are…
Royal Oak Delta 21pts 137 NTOS
Te Atatu Roosters 21pts 87 NTOS
A very big thank you to all our host clubs, recorders and volunteers for making this such a successful event. We look forward to seeing everyone this Sunday at Epsom for some fantastic bowls – play begins at 9.00 am.
Winter Interclub 2020-21 Final Section Results