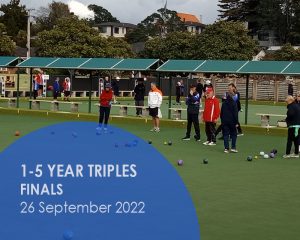 1-5 Year Triples Final
26 September 2022

Semi-Final 1 saw Blockhouse Bay's Jim Hunter, Herbert Lelo & Crag Moffat take on Onehunga & Districts Glenn Taylor, Terangisaia Tangaroa & James Forsyth. Blockhouse Bay got off to a flying start and had 10 points on the board after five ends. Onehunga & Districts began to play catch up with some fine shots however, the deficit was too much – Blockhouse Bay rack up the win, 18-10. 
Semi-Final 2 saw a Composite team of David Motu (Ellerslie), Steve Fisher (Royal Oak) & Colin Ayris-Webster (Royal Oak) take on the Howick combination of David Weir, Graeme Thomson & Greg Dowdell. The Composite team came out firing they were 11-1 after seven ends. Howick then made a strategic comeback to square the ledger 16-all after 16 ends. They dropped a silly three on the 17th and although they picked up a one on the final end, it was not enough. The final score was 19-17 to the Composite side.
The Final delivered what it promised, an enthralling encounter. Neither side exerted dominance it was neck and neck scoring. After 14 ends, the Composite side led 16-8. Blockhouse Bay picked up five shots over the next three ends to make it 16-13 with one end to play. Some fine bowling from Craig and Herbert had BHB three up on the turn. With his first bowl, Jim drew a toucher to move the jack closer to the ditch and sit for four.  David Motu then showed us his class as he calmly lined up and let fly a pearler of a drive that took out two of the shot bowls leaving the jack untouched. 
Jim needed to draw close for a third to perhaps force the tie break – his bowl got caught up in some short, front stuff. David didn't play his final bowl. It was a magnificent game!
Congratulations, to all four finalists. A special thanks to Peter Bennett and his Remuera team for their hospitality on the day.