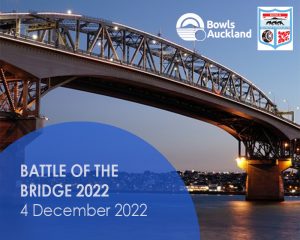 Bowls Auckland versus Bowls North Harbour's annual Battle of the Bridge took place Sunday, 4 December with:
Premier 1 Men & Women at Browns Bay Bowling Club
Premier 2 Women at Mairangi Bay Bowling Club
Premier 2 Men at Takapuna Bowling Club
1-5 Year Men & Women at Blockhouse Bay Bowling Club.
1-5 Year
We had an inexperienced Women's team who were immediately put under pressure by North Harbour. They tested us as we fought hard to secure a win in the Fours, plus a win and a draw in the Pairs. In the Singles, we were under pressure again. Although leading in several games, it was indeed a battle. Our tally was winning three of the eight Singles. Jeanine Browne, Rita Bradnock, and new cap Colleen Short in her first outing for Auckland achieving wins. 
Auckland 5.5, North Harbour 8.5
The 1-5 Year Men started strongly to win all the Fours and Pairs games, putting us in a strong position leading into the Singles. North Harbour was confident in the Singles, at one stage leading seven of the eight to share the Singles 4-4. Crucial to the results were two big comeback wins by Liam Hill and JC Fuller to get the team home for the win. Dave Weir and Steve Campbell won their singles as well. 
Auckland 10, North Harbour 4
Head Coach Peter Blucher was expecting a solid showing from the Men. He was equally pleased with the Women's team particularly as there were a few player changes from last year. "It really was a team effort. The Women have carried the Men in recent years, and it was great to see the Men step up to help the Women to get the win this year."
Men's Premier  2
Team Manager, John Ross said, "The whole team fought hard over the day, ending with a win of 8.5 wins to 5.5 wins which was played by both sides in great spirits.
Auckland Captain Teo Turua led from the front as two "last minute" replacements to the team Kevin Beasley and Les Brown both had outstanding days.  A special mention to Peni Panapa who came through a tight game for his Singles win. Takapuna Bowling Club was a great host, the players enjoying the new maniatoto green."
Head Selector Alison Rennie reported our Auckland teams were just too good on the day, although there were very close and exciting games at all levels. The results are: 
Premier 1 Women – Auckland 10, North Harbour 4 
Premier 1 Men – Auckland 12, North Harbour 2
Premier 2 Women – Auckland 8, North Harbour 6
Premier 2 Men – Auckland 8.5, North Harbour 5.5
1-5 Year Men & Women – Auckland 15.5, North Harbour 12.5
Thank you to North Harbour and all clubs concerned. The events were hosted and run exceptionally well and enjoyed by all players. Congratulations & a very big thank you to all players who gave their time to play great competitive bowls. 
Thanks also to Neville Hill, John Ross & Bev Crowe as Managers, it is much appreciated. 
Smiling champions!
There's nothing like a competition such as the Battle of Bridge to bring together some of the best bowlers we have.  This group is a mix of former and current international champions!
Pictured L-R: Neville Hill, Mike Galloway, Milikin Nathan, Tony Grantham, Selina Goddard, Olivia Bloomfield, Gary Lawson, Paris Baker.