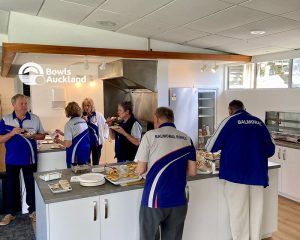 Clubs are the lifeblood of bowls, and most can't survive solely on members' subscriptions or bar revenue to operate successfully. One way of providing vital income is through the various gaming funders. The next time you are at your club, look around, it is quite likely that in some way or another, a project such as a new green, kitchen upgrade or something similar at a club would have been completed via the support of such funders.
Clubs in Auckland are somewhat luckier than most! We are very fortunate to have a funder set up to primarily support amateur lawn bowls in the Bowls Auckland region. Enter, Blue Waters Community Trust (BWCT).
BWCT's origins date back to the early 2000s, it was the brainchild of some forward-thinking administrators led by the Chair of Bowls Auckland at the time, Kevin Hickland, Bowls Auckland established the Trust with money left over from the sale of a property on Kingdom Street in Newmarket and after the purchase of Kimberley Road.
It acts independently of Bowls Auckland with its own Trustees and generates funds to distribute to the community through its authorised purpose of operating gaming machines. Currently, it operates with the generous support of its venue (the Trident Tavern in Onehunga) which has chosen to align with the Trust and support the advancement of bowls (among other community organisations).
The Trust is led by an experienced group of trustees who have a fantastic balance of bowls, community, and gaming industry knowledge. The current trustees are John Slater ONZM (Chair), Allan Smith, Murray Lander, and Ben Marris. To supplement the trustee's administration support is provided by Marco Management (through Jason Woolston), and its Secretary (Michael Anderson).
The impact the Trust has had on bowling clubs in Auckland over its lifetime is incredible. An illustration of this is in 2022/23, 18 clubs in the Bowls Auckland area were awarded grants that totalled $246,000 for various projects such as artificial green replacements, natural green upgrades, kitchen upgrades, new decks, new bowls for community initiatives, and the list goes on.
If your club is in the Bowls Auckland region and looking for funding support for a project, we encourage you to explore Blue Waters Community Trust. The best place to find more information and submit a grant via their website.
Blue Water Trust has contributed to Henderson's new artificial green and Balmorals club room upgrade