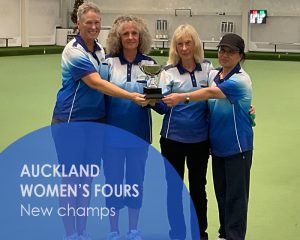 AUCKLAND MEN'S & WOMEN'S FOURS
10-11 December 2022
We were hampered by wet weather conditions once more last weekend for the Auckland Open Men's and Women's Fours. It was a bit of a mixed bag for the qualifying rounds on Saturday – at Blockhouse Bay it was a start-stop day, Te Atatu had some rain but was able to play on, while Howick seemingly did not see rain – go figure!
Post-section play on Sunday moved to Remuera. Undercover, there was lots of lively convivial banter between the teams as bowlers found their stride. The atmosphere egged on the players as we saw teams with notable players being bundled out while others forged ahead.
In the Men's Fours, the in-form Mt Albert team of Grantham, Watkins, Grgecevich & Bartulovich bowled their way straight to Finals Day in April, beating out Lowe, King, Thompson & Hoeft from Pt Chevalier, 18-11. It was fluid team dynamics in motion! While the other in-form Takarua, Reid, Williams & Davis side from Pt Chevalier will meet Pringle Park's Chapman, Balogh, Smith & Mitchell in the semi-final, at a date to be agreed upon.
The Women's Fours played all the way to the Finals.  Finalists Te Atatu and St Heliers played exceptional bowls throughout the tournament, and the Finals match was no exception. St Heliers continued pressure bowls pushing them into the lead to eventually take the title, 18-13. As Te Atatu player Rhianne commented at the end of the match, "it was a game of two halves."
Congratulations St Heliers, it is the first centre title for Linda and Angela, with Sue notching up her 11th title and Catherine her 9th. Well done Te Atatu, you were worthy opponents.
A big thanks to Remuera for accommodating rain cover and to the host clubs Blockhouse Bay, Howick & Te Atatu Peninsula.
Winner: Linda Fenton, Angela Longney, Sue Curran & Catherine Bien from St Heliers pictured with runner-up: Robyn Reihana, Rhianne Tippett, Jenny Jones & Marion Hakaraia