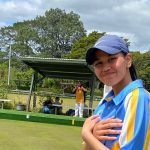 The qualifying for Men's Triples and Women's Singles is now complete. Thank you so much to our clubs, umpires and markers for making the day run so smoothly, very much appreciated!
Congratulations to all players who have qualified. Post Section is at Blockhouse Bay Bowls tomorrow. Women's Singles has an 8.30am start time and Men's Triples has a 9.00am start time.
Full results are below.
Men's Triples Final Qualifying Results
Women's Singles Final Qualifying Results