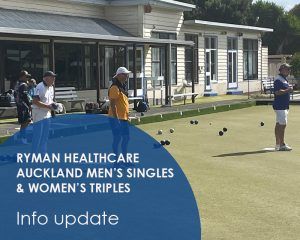 3.40 pm
Ryman Healthcare Auckland Men's Singles – round 2 results
2.20 pm
Ryman Healthcare Auckland Women's Triples – round 2 results

1.50 pm
Spread across 10 Auckland host clubs, it was an early 8.30am start. Bowlers are contending with a mostly sunny day with the temperature sitting around 22 degrees – although some locations are experiencing slightly breezy conditions.
Good luck to all the bowlers competing today.  
Here are the round 1 results: 
Ryman Healthcare Auckland Men's Singles – round 1 results
Ryman Healthcare Auckland Women's Triples – round 1 results
Note – we are still waiting for some Men's Singles results to come in, we aim to provide these in the next round of results.