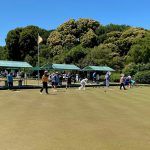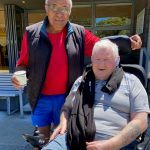 8.00pm
6.30pm
We have completed the day's play and have found our section winners and our next best qualifiers for post-section play tomorrow.
Post-Section is at Pt Chevalier, the men have a 9am start and the women have an 11.45am start. Please listen to the Infoline – 623 3551, in the morning as the forecast is not great.
Thank you so much to our host clubs, our umpires and the many volunteers who help out on the day. We couldn't do this without you!
2.45pm
Round 2 has now been completed at all venues. A number of players were not in a position to qualify so chose not to play Round 3.
The battle is on for one of the next best spots into post-section – there are 7 available for the men and 6 for the women.
The weather today couldn't be better for the Ryman Healthcare Auckland Men's and Women's Pairs.
Our friend, Ross, has popped into Carlton Cornwall for a visit, it's lovely to see him.
The first round results saw some real thrillers!