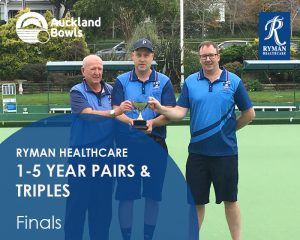 1-5 Year Pairs
The Pairs final saw Adam Baille and Steve Campbell from Pt Chevalier against Chris Dearsley and Neil Rowland from Balmoral.  
The game was one of four quarters with Pt Chevalier getting out to a fast start but for Balmoral to close the gap.  Balmoral then had a golden period where they scored 10 shots in 3 ends and despite Balmoral's efforts by scoring 8 shots in reply –  it was not enough and thus Pt Chevalier took the win.
1-5 Year Triples
The Triples saw Kim Tilly, Malcolm King and John Crow (S) from Blockhouse Bay against Jason Burton, Greg Dowdell and David Weir (S) from Howick.  This was truly a heartbreaking game.  Blockhouse Bay skipped out to a 5-0 lead after 3 ends but then failed to score for the next 6 ends which had the score at 5-12.  Blockhouse Bay then found their rhythm again and after 14 ends it was 12-13 to Howick.  David Weir playing in front of his parents who had come up from Hamilton turned on a master class of precision drawing bowling under pressure and really broke the hearts of the Blockhouse Bay team.  Howick eventually winning 19-14.