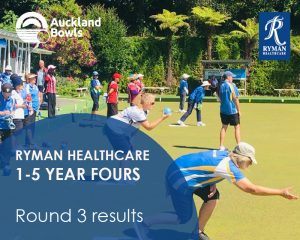 5.50pm

Day One of the Ryman Healthcare 1-5 Year Fours has been wonderful.  Well done to all the teams competing in today's qualifying round, we hope you enjoyed your day. To those teams advancing to post section tomorrow, all the best. 
Post section play is at Remuera Bowling Club and starts at 9.00am.
Here are:
round 3 results
post section draw
2.40pm
It's wonderful to see a colourful array of team shirts out on the green today!  It is also great to see so many eager and enthusiastic 1-5 Year players – happy bowling!
Here are round 2 results
11.48am
We've had mild temperatures this morning as we kicked off
the Ryman Healthcare 1-5 Year Fours at Remuera Bowling Club
– it's a great day to be bowling!
Here are round 1 results