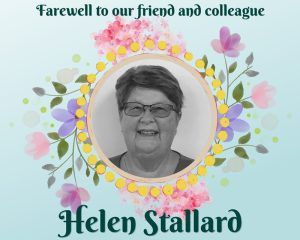 Helen Stallard might best be described as a strong lady.
But for those who came to know her (like I had the privilege of doing only over the last 6 or 7 years), below the surface was a marshmallow of kindness and caring.
Helen could easily have mixed with the likes of Clint Eastwood, Arnold Schwarzenegger or Bruce Willis.  She would have told Eastwood that she was indeed feeling lucky … scoffed at Schwarzenegger insisting he'll be back … and told Willis to stop drivelling on with all his yippee-ki-yays.  They would've known she was the boss.
But even Helen wasn't tough enough to survive the very invasive heart op on Monday morning.  Last week, she TXTed me in that matter-of-fact way that was Helen's modus operandi, that she 'was okay at present, but may not be so good come Monday'.
Tragically, it was much more than 'no good'.  Helen passed away on Tuesday 9th May 2023 in Waikato Hospital.
Helen had been in hospital for a couple of weeks while people in white coats (or is it light blue these days?)  pushed, prodded and scanned her.  Her words to me were that 'she felt fine and a bit of a fraud sitting here amongst the sick people!'.  That was quintessential Helen.
Her passing will be devastating for David and the family.  And it's a huge shock to the bowls community.  Helen seems to have been around forever in bowls, and there would be few bowlers who didn't know of her.  She may even have had a reputation as someone not to be messed with … she certainly ruled the chart room with an iron biro.  But I found the opposite … she enjoyed getting stick … and giving it.
She was a lovely person.  One of the best.  And she will be missed deeply.
Helen joined Bowls New Zealand in 2014.  It seems much longer than that, such was the impact she made.
"She had been at Auckland Bowls," recalls Martin Mackenzie, Bowls New Zealand's Club Manager. "Where she was invited to be a technical official at the World Championships.  She was obviously such a valuable person that Bowls New Zealand nabbed her on her return."
"I found her a source of great wisdom and knowledge," says Martin.  "She could answer anything and everything about bowls … immediately, and on the spot.  She could come across as hard-nosed, but she was a lot of fun.  And you could call her at any time, and she always had time for you."
"Yet she managed things with military precision."
Former National President Jeanette Sinclair, who was very close to Helen for a very long time, felt Helen's super-organisation in the chart room and on the road together.
"I can remember once telling her to behave," Jeanette recalls.  "I told her I'm old enough to be your mother.  Her reply was that 'you're old enough to be everybody's mother'.  She was quick!"
That quickness made Helen a great umpire … she always seemed to have all the rules and interpretations at her fingertips.  She was always ready to rule.  In more ways than one.
"Helen came from a bowls family," says Jeanette.  "The Jaggers.  Her mother, Joan Jagger, was very high up in Bowls New Zealand.  And her dad was a well-known umpire … that must be where Helen got her umpiring genes from."
"One day when she saw New Zealand's representative on the World Bowls laws committee trotting off for a meeting on the other side of the world, she said to me 'I want that job one day'.  And she got it.  Last year."
"When I reminded Helen of that, she said to me 'it's not the same … everything's done on-line now … there's no trips away'."
"But there were trips in New Zealand.  We had a lot of fun on the road together.  She was a diabetic. Yet she still loved her sweet desserts.  When I told her she shouldn't be eating them, her retort was 'don't be ridiculous Jeanette'!"
"But the big thing about Helen was she loved her family.  And she loved Christmas when she could make a fuss of the family.  She was very artistic.  In our down time away, she would sit and do very fine needlework, embroidering Santa sacks for the grandkids or whatever."
But that 'other side' of Helen was less well-known.
More well-known was Helen-who-ran-the-chart-room.  In earlier days, only the bravest dared knock on the door and interrupt Helen.  People knew that she needed the space to keep the tournament in control, particularly if the weather was inclement.
"Over the last decade when I was writing stories about bowls," says Bowls Correspondent, Taranaki Fours Guardian and Bowls Encyclopaedia Grant Hassall.  "I was allowed to write in the chartroom … quietly.  I found that despite what the outside world thought, there was a great deal of humour in our little sanctum.  I enjoyed Helen's company."
"Helen didn't always make decisions that people were happy with.  But she had huge resilience and durability."
That was Helen.  She could do anything she put her mind to.  Or anything other people's minds put her to.
When Chief Executive of Bowls New Zealand, Mark Cameron, asked her to look after the administration of Indoor Bowls in New Zealand, Helen just did it.  No fuss.
"She did an amazing job," observes Alex Reed, a new 'voice' of bowls and handy indoor bowls player.  "She won the trust and confidence of New Zealand Indoor Bowls with her matter-of-fact manner, and her voice will be sorely missed at the National Championships being held in June of this year- at the last nationals she asked everyone to go outside if they were going to trip up, as the health and safety paperwork was a nightmare to fill out!"
"Helen was even working right up until the last minute," says long-time colleague and Chair of the Bowls New Zealand Umpires' Committee, Michael Johnson.  "She was even emailing me last Sunday night about umpiring matters."
"I did my umpiring apprenticeship under her.  As did many,  She was incredibly skilled and knowledgeable.  People were always seeking advice from her … much of it informally.  Helen wasn't one to throw job titles round.  She provided real stability to umpiring.  She was a rock."
Helen also knew a heck of a lot about Bowls Auckland, where she heavily involved in her early bowls years.
"Helen played a big part in our transformation of Bowls Auckland," says former Chair Kevin Hickland. "And as you would expect, she was a very challenging board member.  Even I never escaped (let's call it) Helen's very direct line of questioning."
"Her standard line to me was 'Kevin, this is the way it needs to be done'!"
There is no public funeral for Helen.  She didn't want one.  That was a Helen to a T.  The world was about other people, not her.  She would squirm with embarrassment if she knew people might be feting her.
"Here at Bowls New Zealand," says Mark Cameron. "We have a board meeting tomorrow, and we'll take the opportunity with the staff to have some quiet grieving time.  She's been with Bowls New Zealand ever since I've been here, and many of the staff go back a number of years with her."
"She will be sorely missed.  She could probably do every job in the organisation … and probably has done every job in the organisation.  Even before she went into hospital, she was looking after indoor bowls, doing the accounts and tending her responsibilities with the international rules committee."
"They don't make them like her anymore."
"She was probably one of the most well-known people in our bowls community, and many, many more people will have wonderful things to say about her on top of the few that are quoted in this obituary."
"She died far too young.  And although we knew that the surgery she went into earlier this week was going to be touch and go, none of us imagined she wouldn't pull through.  Helen always pulled through.  And we are all in shock."
"Our heart goes out to David and the family.  Helen leaves a big, big hole."
– Rob Davis
Bowls New Zealand