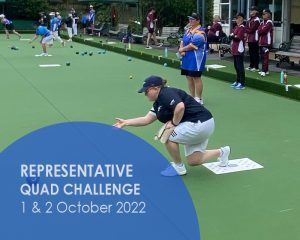 Women's Premier
Bowls Auckland Women's Premier 1 & 2 teams had an excellent warm-up for the start of the representative season ahead, with Premier 1 playing undercover at Remuera against Northland, North Harbour and Bay of Plenty, on Sunday 2 October.
Our Prem 1 Singles player, Linda Ralph, performed very consistently to win her three matches. Lisa Prideaux leading with Ashleigh Jeffcoat skipping the Pairs, had a draw, a win & a loss. The Fours team of Karen Hema, Rima Strickland, Estelle Hickey and Aggie Motu – in the first game – then Jaime Delaney in the next two games, improved as the day went along, just dropping their games by small margins.  
Overall the Prem 1 team came second to North Harbour, with a solid performance.
The rain was the only disappointment of the day, but that did not stop our Prem 2 team playing on the outside green from performing really well, ending the day in 1st position.
Kimberley Hemingway went through her three Singles games unbeaten – she played very consistent bowls all day. The Pairs combo of Jenny Stockford leading with Lesley McLinden skipping won their first two games convincingly, then dropped their third game by a small margin.
The Fours, skipped by Catherine Bien, struggled in the first half of their first game – then flew ahead to take the win. The team, including Judy Raill, Janine Young & Sue Curran, continued by winning the next game.  Their last game which included Aggie Motu in place of Janine Young was lost by a very small margin.
Congratulations ladies on your great results.
Men's Premier

Although Sunday was a wet and windy day at Manly Bowling Club, our host club had two great artificial greens playing fast and wide.
Our Men's Premier 1 team was in front throughout the entire day.  Singles player, Mike Galloway was in fine form, winning his three games convincingly. The strong Pairs team of Tony Grantham and Jamie Hill played exceptionally well, complimenting each other's play – they also won their three games. The Fours combination of Nick Thompson, Martin Dixon, Aiden Takarua & Adam Wishnoski had one very good win and two very narrow losses on a testing day – the competition no doubt has strengthened this team's combination.  The squad improved as the day proceeded and will be in top form for the upcoming Bowls NZ Intercentre finals in two weeks at Browns Bay.
Our Men's Premier 2 team generally had some good competitive games and were second equal in-game points with North Harbour. Scott Harrison playing the Singles had a successful day with two wins and one close but unlucky loss. The Pairs of Teo Turua and Mike Bradshaw played consistently, with a well-deserved two wins, plus a draw. The Fours combination tried hard all day, but they couldn't consolidate at critical times. The experience gained by those players will improve their play in future fixtures.
1-5 Year
On Saturday, 1 October, 1-5 Year rep teams from North Harbour, Northland and Bay of Plenty travelled to Auckland for the first rep event of the season. 
The forecasted bad weather meant a late move to play undercover at Remuera and New Lynn. Thanks must go to these two clubs for making their greens available.
The Auckland Men's team at New Lynn started strongly, sweeping Northland in all three games in the first round. This continued with another clean sweep of North Harbour in the second round, effectively securing the overall win. 
A strong performance from Bay of Plenty in the last round saw a couple of close losses for Auckland, but they still finished comfortably in front by two extra wins. North Harbour nosed out Bay of Play for second place.
With five experienced players missing from last season, it was good to see our relatively inexperienced Women's team start with a win and two losses against North Harbour. North Harbour will face a similar situation next year as several of their 5th-year players drop out. 
A 2-1 win over Bay of Plenty in the second round gave Auckland a good shot for second place. However, we went down 2-1 to Northland in the last for North Harbour to take the final result.  Auckland Men – winners and Auckland Women – third.
It was a great competition. Our next 1-5 Year rep event is the Battle of the Bridge in early December.