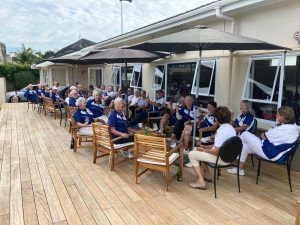 When you mention Trusts, there are two schools of thought. From a positive way to protect assets to a slightly sinister way of keeping money acquired in some dodgy fashion away from the taxman and creditors, different ideas come to different minds.
To members of sports clubs, they can be some distant but endless supply of money for this, that and the other. You know the form … the Committee deals with them, but I know they're there.
In reality, they are the lifeblood for the majority of sports clubs these days, and without them, a number would have gone under or be functioning in a far more limited fashion.
Bowls is no different, and in Auckland, the Rawhiti Trust is the big name in the field. Whether you're aware of it or not, there's a fair chance your club has benefitted from its largesse.
Founded in the aftermath of the closure of the Rawhiti Bowling Club in 2014, and the sale of its property on Remuera's very desirable Rangitoto Avenue, the Trust had $5.4m available to meet its stated aims to 'advance, develop and grow the game of bowls in Auckland via covered greens, facility enhancements, and club development.'
With two more covered greens being developed currently or in planning (at Papatoetoe Hunter's Corner and Howick), both of which are supported by the Trust, there will soon be a centre-wide spread of covered surfaces to enable 12-month playing possibilities – west (New Lynn), east (Howick), south (PHC) and two centrally located (Remuera and Royal Oak), although Royal Oak and New Lynn did not receive funding, all others have, but the contribution to those that have is significant and enables this web of covered facilities to spread equally over Auckland. What that will mean in five years' time is to be seen, but possibilities are almost endless.
Now start thinking about clubs that have laid new artificial surfaces, or repaired existing greens, or improved buildings on site recently. Chances are they have taken advantage of Trust funding, which makes up to $50K available to each successful applicant.
Consider this list: greens at Te Atatu Peninsula, Mt Eden, my own club, Auckland, Epsom, Blockhouse Bay, East Tamaki and Henderson; a kitchen at Glen Eden; a deck at Kohimarama; the car park at Royal Oak … the list goes on until you reach 18 names. The Henderson green, you may remember, was severely damaged by the January floods this year so that club, more than most, had urgent need of repair to its facilities, and the value of a helping hand was inestimable.
Those first two purposes listed in the Trust document have so far used something around $3m, making it the most obvious use of Trust money. Arguably the most important, however, is the third area: club development. The bulk of the spend here has been on the Bowls Development Officer programme, although some smaller grants have been made for marketing and coaching initiatives.
Most of us will have seen these folk around the traps, some will know how much time and effort they put in and it's likely your club will have benefitted with new members drawn by their efforts. A couple of clubs, Royal Oak and Mt Albert, have now funded their own BDOs (something must be working at Mt Albert since their BDO, Jhanna Savov, recently won the Women's Champ of Champs Singles crown as a first-year player) but some will share the services of one person.
Another success story is at Rocky Nook, where Steve King has done a great deal to put a club that was teetering back onto a solid footing; you could also count Kohimarama, where Cynthia Morris puts in considerable effort and there were 39 newcomers this season, a far cry from four year 1-5 players five years ago; there are other similar tales out there.
Money well spent? Well, look at the younger players coming through and the newer players making their marks in the game. At $1.3m since these grants began, you'd have to say it's a snip.
Contrary to wishful thinking, however, this is not some Middle Eastern oil pipeline of money. It has a limit on it, and the cap of available funds is slowly shrinking. Around $4.1m of the original sum available has been spent so if your club is in need, perhaps it's time to seriously consider using what's available before it no longer is.
The Committee has done its job well over time; the current members – Chair Graeme Bennett, Gerard Hulst (a member at Rawhiti when it closed its doors), Ian Dee, Michael Feek and Alan Smith are all well-known in the bowling community and particularly so in the eastern suburbs, the area where the old club once stood.
If you think of the job the committee was tasked with, and think about the current Auckland scene, you'd have to agree with the goals – to advance, develop and grow the game of bowls in Auckland – have been materially assisted by the money they had available.
We, as players, should occasionally remember where some of the improved facilities we now enjoy came from, and appreciate what we've got and how we got it.