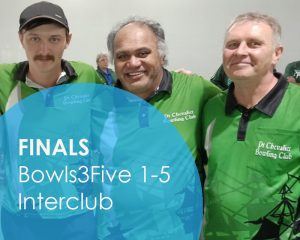 The continual interruptions from Covid-19 restrictions did not deter a record 38 teams enter this year's Bowls3Five 1-5 Interclub competition!
Auckland Bowls Operations Committee worked actively to adjust the playing dates and its format to ensure Bowls3Five 1-5 would be a competitive event. In turn, host clubs made sure bowlers could perform to their best by providing greens in top condition.
The qualifying rounds established the top eight teams.  They were evenly dispersed across the clubs – a true reflection of the even spread of 1-5 year talent across our region.
Tuesday 21 December was finals night, played undercover at Remuera Bowls. The quarter-finals saw some exciting matchups – three of the four games were decided on the tie break. In the semi-finals, both games also went to the tie break.
In the final, Te Atatu Roosters Red; Adam Blucher (S), Jeff Amadia (2) and Mike Liuga (L) matched up against Pt Chevalier Pirates; Jean-Claude Fuller (S), Steve Campbell (2) and Henry Fane (L).  The game produced some sublime bowls, with the position on the head constantly changing.  It was a matter of anything you can do, I can do just as well or even better!
On several occasions, the end was decided by the Skip with the final bowl.  Going into the last end of the first set, Pt Chevalier led 4-2.  With his last bowl, Adam Blucher drew the shot and trailed the jack to his back bowls to sit with three, only to see Jean-Claude Fuller's reply nick the jack sideways for two.  At the second end of the second set, Te Atatu was holding four.  Jean-Claude with his last bowl, drove the jack into the ditch to keep company with two back bowls. Adam's reply was an excellent effort that balanced on the edge of the green, cruelly it fell into the ditch. From there Pt Chevalier kept on the pressure to secure the set and the win.  A fantastic finals match to complete this year's Bowls3Five 1-5 competition.
Many thanks to Maurice and his Remuera team for hosting the finals. We also extend a big thank you to the clubs hosting the rounds. Your hard work and hospitality went a long way to making this a successful event.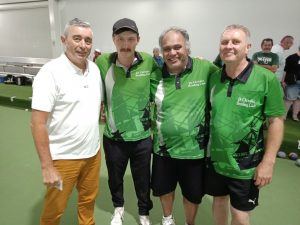 David Ball, GM Auckland Bowls with winners Pt Chevalier Pirates: Jean-Claude Fuller, Henry Fane and Steve Campbell.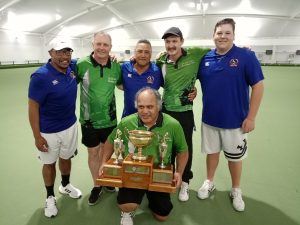 Runner-up Te Atatu Roosters: Jeff Amadia, Mike Liuga  and Adam Blucher with winners Pt Chevalier Pirates
Check out the final results here…