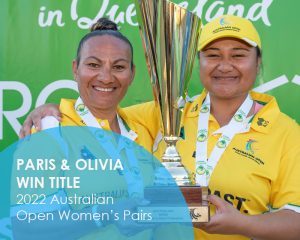 The Australian Open is a 14-day festival of bowls, the 2022 field having over 3,000 entries and 5,700 competitors – ranging from club-level bowlers to world champions, all competing in an open draw.
The New Lynn Bowling Club duo of Paris Baker and Olivia Bloomfield have been a regular and formidable pairing at club, local and national competitions. When they decided they wanted to play in the 2022 Australian Open, they set about fundraising to enable them to attend and compete.
Once on the Gold Coast, Paris and Olivia competed in the Singles, Pairs and Fours. While they both qualified for post-section play in their Singles, their effort in the Pairs discipline brought their names to the fore.
In sectional play, they had winning scores of 16-15, 19-16 and 21-9 – giving them the section win and advancing them to the knock-out matches on Tuesday, 21 June. They moved through two rounds of knock-out wins of 16-13 and 27-17, followed by a convincing 22-8 win in the quarter-finals.
We were able to grab glimpses of their semi-final during the live streaming of the other semi-final game, and although our ladies were well behind during the first half – they kicked it up a notch and held the momentum to take the match 14-10 and through to the Final.
Finals day arrived. It was a bit of a nervy start for the New Zealand duo, as they familiarised themselves with the running of the green – a quick 16.5 seconds and with a large crowd watching on.
Their opponents, Wendy Wilson and Tris Doolan, were first to score. After two ends, they lead 0-4. Things start to take shape for Paris and Olivia, as they score one in the third end. Their focus is growing and they look to be settling into their rhythm and finding their shot range.
It's halfway through the match, the tide has turned in favour of Paris and Olivia – it's game on! Paris was relentless in her upfront positional play with her opponent unable to make any significant counter shots and unable to slow the momentum. Olivia also plays some lovely bowls to deny their opponents any points. Paris and Olivia win four consecutive ends. They have controlled the match from end 8 and continued to apply pressure gaining 13 points in ends 8 to 11 to take the lead 16-8.
The New Lynn duo are tactical as they defend their ground to reduce their opponents' opportunities to score. Wendy and Tris are looking to take some chances – they know they need to win multiples to claw back valuable points. They can only muster two points by end-14 the score is 19-10. The deficit is too big for the Aussie duo. In the next two ends, Paris and Olivia add seven more points to take the title 26-10.
It was clear from the onset, that Olivia and Paris were playing their own game and having fun – their personalities and skills shone. It was a memorable match for these two ladies, congratulations.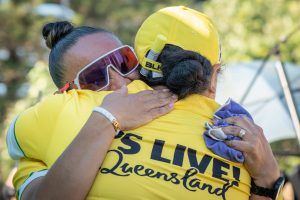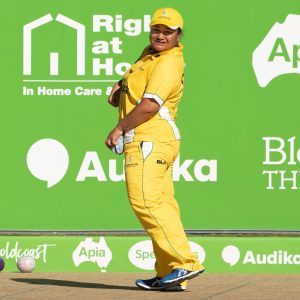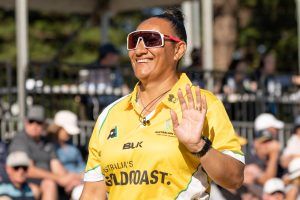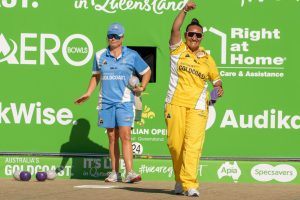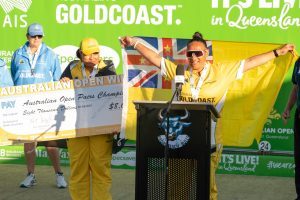 Images courtesy of Bowls Australia