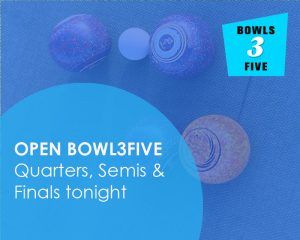 FINALS – 15 February 2022
Tonight is the Open Bowls3Five Quarters, Semis & Final.  The weather for tonight's matches is fine with south-westerlies developing during the afternoon.  The live draw will take place at headquarters, Auckland Bowling Club at 5.30pm with match play starting at 6.00pm.
Good luck to all players.
DAY 3 RESULTS – 8 February 2022
Day 3 results
Day 3 standings
Well done to all participants in this competition.  Here are the preliminary results.  Please make sure to check your individual team's results for accuracy. 
The Finals are scheduled for 6:00pm on Tuesday 15 February at Auckland Bowling Club.  If Post Section play is likely to be affected by rain, the venue will be moved to Remuera Bowling Club.
DAY 2 RESULTS – 1 February 2022
Day 2 results
Day 2 standings

DAY 1 RESULTS – 25 January 2022
Day 1 results
Day 1 standings
Click here to view all event information