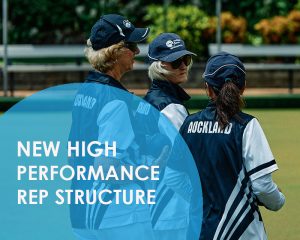 A key strategic goal for Auckland Bowls is to be the number one performing centre in New Zealand. While we are yet to achieve this goal, we believe the Auckland region has all the elements to become 'number one.'
During a recent review of our high-performance structure, we identified the need to make some fundamental changes.  We worked through our past performances, consulted with bowlers for feedback, we researched how other sporting bodies structure their activities for representative teams.
The review identified Auckland Bowls needs to become more progressive if we want to improve and achieve our goal.  We determined a high-performance team needs to work as a cohesive unit and trust one another – therefore we will be initiating the following:
develop more collaboration, coordination and cohesion across the entire squads
have a positive team with a sense of pride and ownership – by developing and building a great team culture it will enable success, which in turn, will attract more talent
introduce a transparent and structured approach to our player selections
introduce a selection process with clear and concise criteria – identify key components and apply some subjective elements to recognise diverse, passionate and committed team members
Our high-performance activities will include specific coaching, skill-set training and player development programmes.  Player performance can then be measured and monitored, the results analysed and used as part of the player selection process.
We attach a copy of our new high-performance structure and note that we are seeking applications for the following roles:
Open Men's & Women's
One Head Selector
Two Co-Selectors
Two Team Managers
Note – Leif Selby will be assuming the role of Trainer-Coach
1-5 Year Men's & Women's
One Head Selector
One Co-Selector
Trainer-Coach
One Team Manager
Note – Leif Selby will be supporting the Trainer-Coach
We provide the following documents:
We look forward to receiving applications, which will close on Friday 24 June.
Please feel free to call David Ball on 021 305 772, to discuss the new structure and positions.