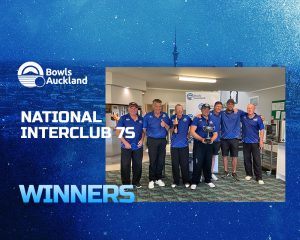 4 & 5 March 2023
Howick Bowling Club was the hub of its local community on Sunday. Kids were giggling as they zoomed up & down the new scooter track next to C green, a local band was in the middle of practice in the Nixon Park Community Hall, and locals were ambling through, walking their dogs – all alongside National Interclub 7s Finals Day.
The greens were a sea of blue, a favourite hue for many club shirts… with a peppering of the familiar green, gold & black, white & maroon!
441 bowlers from 63 teams playing at 11 greens were dramatically whittled down to 17 teams.

Auckland Cup Any Combination
Quarter-finalists Blockhouse Bay Bluebells and Howick Green teams comprised of women – the Bluebells had two wins against Howick Green to progress to the Finals. The Bluebells meet the other Blockhouse Bay team, the Bears – who was a side of men!
We didn't want to use the 'g-word' so let's just say, a battle of wit and skill ensued. It was an 18-18 draw in the Singles but wins in the Pairs & Fours, favoured the Bears – they won the 2023 Auckland Cup.
It was great to see teams from East Tamaki and Glendowie, showing their merit by qualifying for post section – keep it up guys and keep on entering competitions!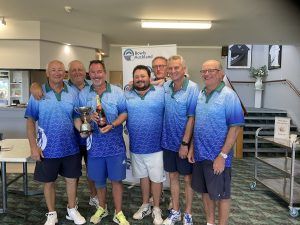 Auckland Cup AC winners: Blockhouse Bay Bears – Glen Rich (Singles), Doug McNamara, Tony Holdsworth (Pairs), Daniel Geaney, John Geaney, Alan Blackman, Neil Prendiville (Fours)

Women's Open
St Heliers, Te Atatu, Royal Oak & Carlton Cornwall are regular contenders in Women's fixtures – each club field formidable sides with abundant titles as evidence of their ability. Sunday's Finals matchups would be no different.
In semi-final 1, St Heliers reigned over Te Atatu in the Pairs 20-15, and the Fours 17-8 to move to the Finals.
Semi-final 2 was a tight battle in all three disciplines between Royal Oak Athena and Carlton Cornwall. The match winner was not determined until the last end in the Fours.  A valiant effort by the ladies from Royal Oak – on this occasion it would be Carlton Cornwall progressing to the Final.
The Final between St Heliers and Carlton Cornwall was another tooth-and-nail battle. While St Heliers had the Singles under their belt, 21-11, the Pairs and Fours got the hearts racing.  Carlton Cornwall snaffled the Pairs 19-16 to keep both teams' hopes alive. St Heliers' resolve edged out Carlton Cornwall, 13-10 in the Fours. 
It was so close – St Heliers is crowned 2023 Women's Open Interclub 7s champions.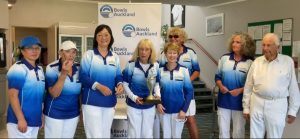 Women's winners: St Heliers – Titia Ryder (Singles), Sue Curran, Paula Kempthorne (Pairs), Catherine Bien, Joy Spence, Angela Longney, Ling Qu (Fours)

Men's Open
There was plenty of talent, the who's who of bowls, in the Men's Open post section on Sunday.
Ellerslie Bowls was elated – a combination of youth and experience worked well, and both of their teams qualified to post section. Their Broncos side defeated Bridge Park across all three disciplines in the quarterfinals to win a semi-final spot.
Mt Albert Lions, proving to be fierce competitors – defeated Ellerslie Eagles to be matched against Auckland Originals in another semi-final. Pt Chevalier Pirates was too strong for Te Atatu to secure their semi-spot – they would compete against Ellerslie Broncos to fill the final semi-spot.
Both Pt Chevalier and Auckland Originals delivered skilful matches to progress to the Finals. A betting person would find it difficult to know who to put their money on!
Auckland Original's Nick Botica said, "their combination struggled a bit in the beginning. A reshuffle suggested by Neville had the side playing much better."  It worked! The men in green, Pt Chevalier Pirates were down for the count in all three disciplines; 21-18, 17-12 & 14-8. To sum up, the Originals win, the quote of the day goes to Neville Hill, "there's plenty of bowls left in these ole bones." 
Congratulations, Auckland Originals 1, you are the 2023 Men's Open Interclub 7s champions.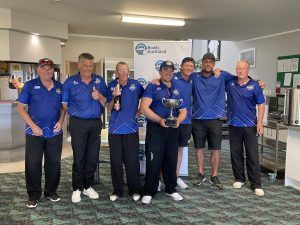 Men's winners: Auckland Originals 1 – Jamie Hill (Singles), Phil Robottom, Leif Selby (Pairs), Glenn Newton, Bevan Beckham, Nick Botica, Neville Hill (Fours)
Auckland Originals 1, St Heliers, and Blockhouse Bay Bears, from everyone who entered the 7s, from your club members & bowling supporters, and from the wider bowling community  – we say congratulations to each winning team!