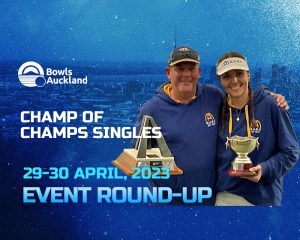 The weekend's forecast was not looking too good, so the wet weather plan was implemented. This meant the Women moved to New Lynn, while the Men changed to artificial at Blockhouse Bay. Condensing onto C Green, the Round of 32 was split into two – six games played at 9.00am and six games played at 11.30am.  The knock-out format meant the winners would progress to the Round of 16.
Tournament Convenor, Les Smith commented, "It was great to see a wide range of clubs and the diversity in experience amongst club champs. Over the entire weekend, I saw plenty of sportsmanship and camaraderie among the players.  Heck, players were even thanking the officials, which is so gratefully received."
"Across all the club champs, it was Balmoral and Mt Albert who had their Men's and Women's players progress to Finals Day. And what a quality Finals Day it was."
Mt Albert Bowling Club reigned supreme, securing the Men's and Women's titles on Sunday in two fantastic displays of bowls.  We all heard the lions roar!  Tony Grantham defeated Tony Balogh, Pringle Park 21-17 and Jhanna Savov won against Lyn Lopez, Glen Eden 21-14.

The lead-up to Finals:
Although some of the most experienced players were bumped out of the event, the calibre and quality of bowls didn't wane, the competitiveness continued with some close-scoring matches.
It was guaranteed a Tony would win the Men's Final – the question was, which one?  In one semi-final Pringle Park's Tony Balogh, defeated Richard Kempthorne from St Heliers, 21-18 and in the other Tony Grantham from Mt Albert defeated Nick Thompson from Pt Chevalier, 21-14.
Tony Grantham is in tip-top form, and his successes this season are undeniable – congratulations and keep on collecting those titles and trophies!
The surprise and delight of the tournament goes to Year 1 player Jhanna Savov. Excited and super proud Mt Albert Club Board Director, Izania Downie said, "Not only is she a first year but she didn't pick up a bowl until she started with us as a social bowler in November 2021 and joined as our full-time Bowls Development Officer.  Then in September 2022, she started playing as a full-playing bowler with her first tournament, the 1-5 Year Triples at Epsom." 
"This may well have made history on two levels, a first-year winner in the Women's Champ of Champs and the first woman to play let alone win in Champ of Champs for Mt Albert."
When we spoke to Jhanna on Saturday following her first match win, she commented "I had seen the draw and told myself not to be overwhelmed by my opponent.  I decided not to get ahead of myself and to play one end at a time."
"One key learning I took away from a coaching session at the club was to find my line by looking jack level at the green.  It's now part of my setup ritual." 
And what about winning that first title, Jhanna went on to say, "It wasn't me playing – I'm not sure where the bowls came from! I am so grateful to all the MABC players who have guided and supported me along my journey to date, and to have 27 members turn up today to support myself and Tony was amazing. That's just what it's like at MABC, we are just like one big family there for each other through it all."
Wherever the bowls came from, they stuck with Jhanna for the duration of her matches to finally take the 2023 Women's Champ of Champs Singles title.  Congratulations Jhanna, you have a bright bowling future ahead of you. 

A big thank you to:
Host clubs – Blockhouse Bay Bowls and New Lynn Bowls.
Officials – Les Smith, Lorraine Beazley, and Gwen Ng.
Markers – the volunteers who put up their hands to help mark and to the players who stayed to mark.