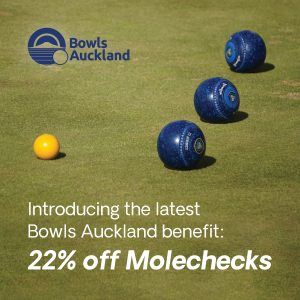 We are delighted to announce that Molecheck is jumping on board as a partner of Bowls Auckland (and all bowlers) for the upcoming summer!
Bowls Auckland CEO, Dean Bartlett is excited about the partnership and its alignment with bowlers commenting "We want to reduce all barriers and make bowls as accessible and safe as possible.  We think partnering with Molecheck enhances our ability to do so and provides some added value to all members that they will hopefully take up!"
As bowlers, we spend a lot of time out in the sun.  Whilst the health benefits of spending time outdoors are well documented and help our wellbeing, too much time in the Kiwi sun can be a killer – more New Zealanders die from melanoma than die on our roads. The good news is that most melanomas can be successfully treated if detected early.
Our new partnership means all members (full and limited) of bowling clubs affiliated with Bowls Auckland can now receive a 22% discount for a full mole check examination. 
The doctors at Molecheck use the latest dermoscopy techniques to detect melanoma and other skin cancers at the earliest possible stage. They provide on-the-spot diagnosis – and in some cases on-the-spot treatment. All patients leave the consultation with a clear assessment of any lesions of concern, an understanding of personal skin cancer risk, and a plan for any treatment and follow-up that may be required.
The examination includes a full-body assessment and, if required, treatment of any precancerous lesions with cryotherapy. If clients require a biopsy or lesion removal, this may be accommodated at the time of the check, otherwise, it will be arranged on another day at the client's convenience. Please note that biopsies and lesion removals are charged separately.
To receive the discount all you need to do is let the Molecheck reception team know at the time of your booking that you are a member of one of the 40 bowling clubs affiliated with Bowls Auckland and take along proof of this at the time of your appointment (preferably in the way of your club membership card).  Members who have health insurance may also have some or all of the cost of the GP consultation and treatment covered.  
For more information on the services available at Molecheck, and to book, visit www.molecheck.co.nz or call on 0800 Molecheck.