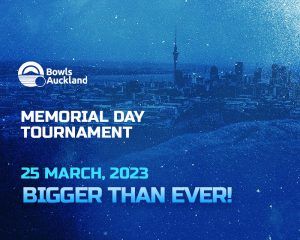 The Auckland Cook Islands Bowling Association (ACIBA) staged its annual Memorial Day Tournament on 25 March, at Grey Lynn Bowling Club. A total of 22 teams entered, meaning nearly 100 players took the greens in ideal conditions. These included many top performers from around town, headed by Auckland Prem reps Teora Turua and Jamie Hill, while Cook Islands players in the upcoming Oceania tournament, Turua, Taiki Paniani and Philly Akaruru, all showed touches that suggest their preparations for the big event are coming along nicely. A number of clubs were represented, with large contingents from Bridge Park and Auckland Bowling Club in particular.
The Memorial Day tournament is to honour those members of the ACIBA who have passed on; the trophy has individual plaques bearing the names of these members mounted on it. The most recent addition to the list, Utuone Vavetuki, was well-known around Auckland and had passed only four weeks earlier.
Before play started Association President, David Akaruru and Patron, Papa Paul, both spoke of the importance of the tournament and a roll call of the names was made.
The tournament proper was sternly contested; four teams ran the table and another two, who had three wins apiece, drew when they squared off, so overall six teams went unbeaten. There was, as one could expect, plenty of quality play, a lot of ribbing, a few lies being told and much laughter, as well as the usual muttering about lousy shots or tinny opponents. When the dust settled the Bridge Park combination of Paniani, David Akaruru and his nephews Thomas and Fraema came out on top, winning on a countback.
The tournament was bigger than ever this year, as it was open to anyone who wished to play rather than being kept more or less in-house. That is in line with David Akaruru's vision for expanding the Association so the first A in the title stands for Aotearoa rather than Auckland, and it becomes a body that supports players throughout the country rather than just the local community. He spoke on the importance of this before the day started and again at the aftermatch, and many heads nodded in agreement.
A good day on the green was topped off with outstanding catering; in true Pasifika style, lunch was a lot more than a sandwich and a salad. Several would happily have headed straight from the dinner table to the aftermatch without worrying about playing in the afternoon, but there were no post-lunch defaults, even if a couple of games did start late.
The universal reaction was the day had been an outstanding success, the committee that organised it deserved considerable credit and praise for their efforts and that yes, we'll all be back next year.
— Paul Neazor