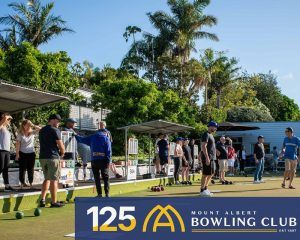 The Mount Albert Bowling Club's 125-anniversary celebrations wound down recently, and what better way to top off a special year than with a string of successes on the greens.
2022 Commonwealth Games bowler Tony Grantham bagged himself a Silver and a Bronze at the recent Multi-Nations Tournament on the Gold Coast (securing himself a place in the New Zealand team at the World Series in Australia in August).
Closer to home, Tony added to his list of titles by winning both the Champ of Champs Singles and the Auckland Centre Fours, with teammates Zoran Bartulovich, Neven Grgicevich and Randall Watkins.
When he's not there collecting trophies, members can often find Tony on the greens at his Mount Albert club, providing tips to up-and-coming bowlers.
First-year bowler Jhanna Savov is one such up-and-comer, and you could say she's hit the greens running, winning this year's Champ of Champs Women's Singles.
"It's an amazing achievement for someone who only has one season under her belt," says Club President Nathan Haturini.
The Mount Albert Club came out in force to cheer Jhanna and Tony on in their respective Champ of Champs games (there were 27 members on the Finals Day alone).
Jhanna summed up the presence of so many blue and yellow club colours perfectly when she said MABC is all about a family supporting each other. "It's been great getting lessons from more experienced members, who then turn up on the day to cheer me on."
"Being a family and part of the community is a big driver for the Club, and I'm really proud to see that support being demonstrated at various events," Haturini says.
Regular activities throughout the year, such as Quiz Nights, Family Days, School Coaching and Competitions, and Have a Go Days are all designed to keep the Club connected to the Mount Albert Community. The Club also has a strong social media and web presence to keep locals informed about what's going on.
"The Club has been an integral part of the community for 125 years and we want to keep that connection strong," Haturini says, adding; that the first bowl was delivered in 1897 at Ferndale until the current property at Allendale Road was purchased in 1907 for 450 pounds and this is where the clubhouse still stands today.
The Garlick family, who originally gifted the land to the Club had family descendants attend the opening day and the family remains the Club's patron.