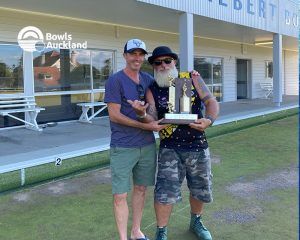 Let's have a little game of deep-rooted stereotypes.
Imagine, if you will, a group of 20 non-bowlers from around Auckland being handed a pack of photos of 20 bowlers, and asked to pick the Westie boy out of the crowd. How many, do you think, might stop at Steve Ramsay's photo?
You know: the ZZ Top beard, the tats, the sort of bloke you could see cruising on a motorcycle, preferring rock over easy listening, not scared of a beer or two… well, you'd tick all those boxes in real life. Even his former trade, that of a sheet metal worker, fits the bill.
Now consider what sort of a reaction you might get if you added he has claim to be considered the most promising new greenkeeper in Auckland. That perhaps is not what one might expect from this 'local legend'. But it's true.
Advised that the Blockhouse Bay opportunity was coming up by Nick Thompson, the heads-up arrived just at the right time for Steve who felt it was time for a full work-life makeover. The idea had appeal, so he put in his application and won the job in March 2022.
At this early stage of our chat, he wanted to stress the help he received from the more established greenkeepers around town – Nick, Warrick Fredrikson, Jamie Hill, Brendon Kelly, Paul Hickey, Pat Bell and Mike Galloway. 'I learned from Warrick, but they're all in my phone and I have called all of them a lot. They've helped every time I've asked; the whole group have been there whenever I've needed a hand. They're happy to share and I appreciate that.'
Blockhouse Bay is a popular venue for large events and major tournaments owing to the three available greens and large club facilities. That demand, if anything, was even greater in 2023 with the Oceania Challenge in April being allocated to the club before Christmas. And then it rained and rained and rained all summer long …
'That really didn't help,' notes Steve, but he's not a man bemoaning his luck. 'Our greens are starweed, and starweed doesn't like getting its feet wet. The greens were closed a bit this summer, simply so they could be kept playable. They were so soft after the flooding that we couldn't let the dumpers loose on them, especially with the Oceania Challenge coming up.'
The A Green at Terry Street is prone to the odd bit of surface flooding, we all know that. And, says Steve, that leads to issues for the greenkeeper. 'A bit of fungus might get into it, or some mould, or a worm infestation. It almost changes by the week, and I need to keep on top of it.'
He kept on top of it, too – right up to the night before it all kicked off, when the skies opened and his lovingly-prepared greens received another soaking. Decisions had to be made, and made fast. So A Green was closed, the Women's play shifted to the artificial and on B Green it was all hands to the pump, almost literally. To everyone's credit, and there was a crew of around ten club members who did their bit every morning, play started on time in conditions as good as could be expected.
As the sun and wind did their thing, the playing surface on B Green picked up, the remedial work on A Green did its thing and everything was back on track for Day 2. It was a fair effort. 'I was nervous about how they'd play; I would have preferred them a little slower but they quickened up in the wind,' Steve noted. Nobody complained.
By the end of the tournament, all I heard was praise for the quality of the greens and the fact they were true, quick and fair. Steve himself missed most of the platitudes. 'I tended not to hang around, since I also had to get over to Piha and look after their green. It meant I wasn't around much after play got under way.'
Well, let the record show players from the various nations were impressed, and the consistent ones got fair reward. For a young greenkeeper, it was a notable feather in the cap.
While his skills preparing greens are in the news nowadays, his skills on the green aren't negligible. A three-year member of the Auckland 1-5 team, a winner of the Centre 1-5 triples on one occasion and a beaten finalist in a couple of other events, Steve is currently in the open grade rep development programme entirely on merit rather than any past reputation. His name is one that guarantees a few nervous moments if you see it in your little part of the draw.
He is and has been since he started, a stalwart Mt Albert man, either wearing or supporting those in their blue and gold. He played at Blockhouse Bay as a second club briefly, but his bowls home is a little closer into town than his work address.
I had to ask: which gave greater satisfaction now, a well prepared green or a good day's playing? Steve hesitated a moment. "I think, now, I get more satisfaction from hearing good reports of the greens.' Another pause. 'But if you're talking about a Centre title, my answer might be different.'
Plenty of bowlers would applaud that victory, too.