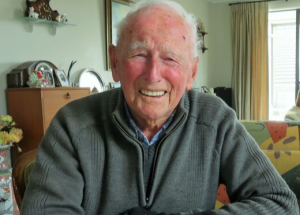 The Auckland bowling community wishes to extend their condolences to the de Jongh family upon hearing the news of Joshua (Jos) de Jongh's death on 10 October 2022 at Waikato Hospital, aged 103. 
With over 63 years of bowls, Jos amassed an astounding number of bowling titles – some 61 club titles and 6 or 7 centre titles. His winning ways run in the family daughter Karen de Jongh, a member of Carlton Cornwall, has recorded 14 centre titles so far.
Turning 100 in 2019, Jos was still playing and enjoying bowls! Bowls NZ published an article providing insight into Jos' life and bowling career – here's what they wrote.
A celebration of his life is being held at 11.00 am at the Pukekohe Cosmopolitan Club on Friday, 14 October 2022.