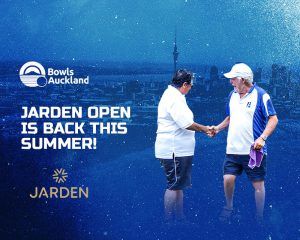 Bowls Auckland is delighted to once again welcome Jarden (Investment and Advisory Group), as a partner for the upcoming season, which will be headlined by the Jarden Open 2-4-2 Mixed Pairs in December.
The Open has proven to be a popular tournament in recent years with 84 teams entering last season and is played over the normally fine and festive Christmas and New Year break.
This season will mark the third year Jarden has partnered with Bowls Auckland, and their support especially in the Open results in a higher level of delivery and hopefully alleviates the player's experience. An example of this was last season's version was broadcast on the Bowls Auckland YouTube Channel, supporting those from afar to watch, and lifting the overall profile of the sport.
"We are all about exploring ways we can deliver a better experience, and partnering with organisations like Jarden gives us a greater ability to do so. The team at Jarden has long had an association with Bowls and Bowls Auckland, and we are both thrilled and grateful to once again partner with them." Dean Bartlett, CEO, Bowls Auckland. 
If you or someone you know are seeking investment advice, please give Jarden some consideration, and more information can be found on their website.