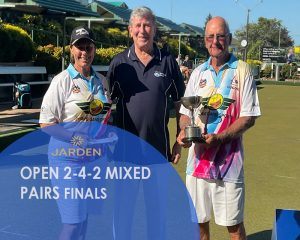 28-30 DECEMBER 2022

While Aucklanders leave the city in their droves for the summer holidays, 84 Pairs teams remain to compete in the Jarden Open 2-4-2 Mixed Pairs on 28-30 December.
This is a popular format, it's a great opportunity for life partners, siblings, mates, club mates, and experienced & junior players to buddy up and get on the bowling green.  It's a tough competitive event and some players saw it as a good lead-in to the National Pairs & Singles in January.
Plate finalists' brother & sister duo, Chad and Malika Nathan from Birkenhead had a bit of a mixed day on day one with a heavy defeat and two wins at Carlton Cornwall.  One of those wins was against last year's Open winners, Garry Banks and Wendy Jensen, 14-10.  In their section, three teams were on 6 points each but the Nathan's lost on differential to qualify for the Plate event.  They were undefeated on day two and on day three.
Their opponents, Fleur Grenfell & Parmesh Raman from Blockhouse Bay just couldn't feel the green on day one with two losses and a bye.  On day two they had a scare in their first game, 9-11 but had a big win in their last game, 10 ends, 22-0, and qualified through on ends and differential.
In the final match, the Nathans outscored 2 shots to 1 at each end.  The bonus ends for the Nathans was the 12th end when they picked up 7.  Chad and Malika win 25-13 – congratulations.  It was a great effort from runner-up Grenfell & Raman.
Open finalists Neil Fisher and Trish Croot had an unblemished record on day one, winning 3 out of 3, and repeated 3 out of 3 again on day two.  Their Finals opponents Les Brown and Linda Fenton from Howick achieved the same.
Fisher & Croot opened up a 5-shot lead but Brown & Fenton fought back to close it and to actually lead on the 13th end.  After the 14th end, it was 15-14 to Fisher & Croot.
On the penultimate end, urged on by a partisan crowd, the Howick combination picked up a precious point to square the ledger – 15 shots, 15 ends, 15-all to set up a nail-biting final end shoot-out! 
Linda in her first bowl picked up the jack and dragged it within 150mm from the ditch.  With her fourth bowl, Trish picked up the jack cleanly and took it to the ditch and sat in an unbeatable position.  Fisher & Croot take the win, 16-15.  It was a fitting final for two worthy teams.  Congratulations Neil and Trish for being crowned 2022 Jarden Open 2-4-2 Mixed Pairs champions. 
The weather was outstanding over the three days, and so too was the standard of play throughout the tournament, so thanks to everyone who competed.  To our wonderful host clubs and their band of helpers; Howick, Carlton Cornwall, and Blockhouse Bay and to all the officials – a big thank you, we appreciate all that you do to deliver a successful event.  Thanks also to our lead event sponsor Jarden and to our co-sponsor Hunter Bowls.
Click here to view the full results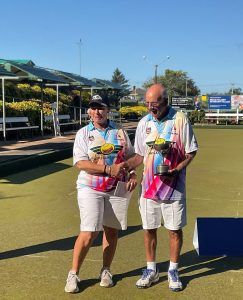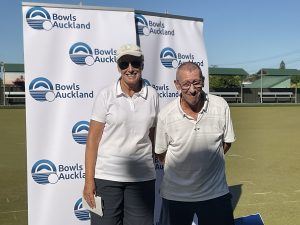 Open winner Composite team Trish Croot & Neil Fisher and runner-up Linda Fenton & Les Brown from Howick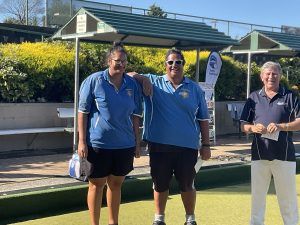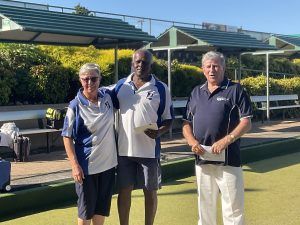 Plate winner Malika & Chad Nathan from Birkenhead with runner-up Fleur Grenfell & Parmesh Raman from Blockhouse Bay with Greame Scott, President Bowls Auckland.
Livestreaming schedule & links:
9:00am: Quarterfinal: Bart Robertson & Leanne Poulson vs Neil Fisher & Trish Croot.
https://www.youtube.com/watch?v=mcNGqaU6BWs
11.45am: Semifinal: Chad & Malika Nathan vs Olivia Bloomfield & David Motu https://youtu.be/9WNoXrL0Btg
3.00pm: Final: Neil Fisher & Trish Croot vs Linda Fenton & Les Brown
https://www.youtube.com/watch?v=7W9gwis8WqI