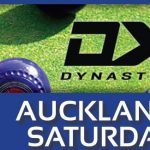 After a very wet beginning for Dynasty Interclub 8s and Half Day Sixes, we completed the remaining rounds in dry weather. In fact, last Saturday was a stunning day and I expect there may have been a few pink noses for those of us who forgot the sunblock!
Whilst we have found our winner for Women's Division 1, four clubs are in the running to come second so they will need to play their final round on the 5th of December at Carlton Cornwall Bowls.
Looking at the results as they came in each week, there were some very close battles! It's gut-wrenching to lose by just one point but, on the other hand, it's quite exhilarating to grab that win on the last end. As I've often been told, this game is character building 😊
Very well done to all teams for representing your clubs with pride, determination, great spirit and sportsmanship.
Auckland Bowls congratulates the following clubs for winning their Division this season.
Men
Premier: Pt Chevalier
Division 1: Glen Eden
Division 2: Epsom
Division 3: Auckland
Division 4: Mt Albert
Division 5: Otahuhu Railway
Women
Premier: Carlton Cornwall Bowls
Division 1: Onehunga & Districts
Half Day Sixes
Blue: Kohimarama
Red: Oratia
Click the links below for full results.