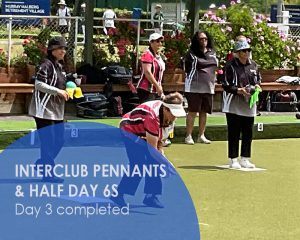 In late September, following the results of a Saturday Interclub Player survey, Bowls Auckland Operations Committee agreed to trial three new Interclub formats 
1.      Men's 9s Pennants (3 teams, 2 bowl Triples)
2.      Women's 9s Pennants (3 teams, 2 bowl Triples)
3.      Any combination 9s Pennants (3 teams, 2 bowl Triples)
The format for the Half Day 6s remained unchanged.
Played over three Saturdays, the Pennants raised a challenge or two for teams and Bowls Auckland alike.  From having enough players on the day, scoring, to securing available clubs. The great thing about having a trial is it provides an opportunity to review and problem-solve the challenges, and this is what the Operation Committee will undertake.
On the eve of Day 3, the heavens opened & we all wondered if Interclub Pennants & Half Day 6s would take place – but by game day, the rain had moved on. The Half Day 6s were completed so too were Interclub Pennants Men's and Women's Premier Division & Women's Division 1. 
Congratulations…
Pt Chevalier Pirates continued their interclub winning ways when they were crowned Men's Premier Division winners.
St Heliers won the Women's Premier Division, while Bridge Park won the Women's Division 1.
Epsom beat Mt Eden to become this season's Half Day 6s champs.
Men's Division 1 & 2 and Any Combination will be able to complete their unfinished rounds on Reserve Day, 3 December.  Venues will be confirmed.
Click on the links to view:
Interclub Pennants results and standings
Half Day 6s results and standings