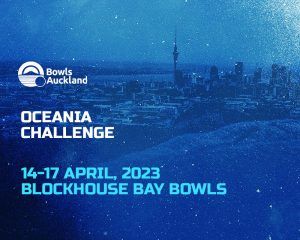 With the format decided, the players selected and the venue confirmed, the stage is set for the inaugural Oceania Challenge to get underway next month.
Hosted at Blockhouse Bay Bowling Club in Auckland, the 2023 Oceania Challenge will include 19 teams from Tonga, Samoa, Papua New Guinea, Norfolk Island, Niue, Fiji, Cook Islands, Tokelau and U26 New Zealand side (both men and women) and an Aotearoa Maori contingent. The format will see players selected in Singles and Fours, and Triples and Pairs combinations.
The four-day showpiece, which is a World Bowls sanctioned event, will see players taking on Fours and Singles, and Triples and Pairs – with two sections playing five rounds.
The top team in each section will play for the Gold/Silver medal, while the runner-ups in each section will contest the Bronze medal. Adding to the hype will be a trophy for the best-performed country at the event (combined men and women), with points awarded for finishing places in each section, and extra points for medal games in each discipline.
In a novel quirk, the draw will be carried out after the opening event, with teams drawing their own opposition following a traditional Maori welcome and pōwhiri.
Tournament director and Bowls Auckland chief executive Dean Bartlett says the event will be a celebration of cultures and a showcase of top-level bowls throughout the Oceania region.
"It's going to be very special to have all the countries come together in Tāmaki Makaurau (Auckland), and we have been blown away by the support of team entries from the respective countries.
"Auckland itself is a hugely diverse city and that's what makes it so special. This carries through to our bowling community too, which engages all walks of life and is a catalyst for bringing people together… we're certainly looking forward to seeing this amplified over the Oceania Challenge, and hopefully it inspires and connects with non-bowlers too."
All going to plan, Bartlett hopes the event can establish itself as a regular showpiece on the calendar – likely to become an annual fixture on the World Bowls stage.
"We've had great support from Bowls New Zealand and Oceania Bowls, with both parties undertaking a huge amount of work to get to this point. I congratulate them for their foresight and commitment to the tournament and (I'm sure) it will be a great experience for all involved," Bartlett said.
"Further to that, we acknowledge the contribution required from Blockhouse Bay and we are very grateful to their team, and especially the volunteers, who will be going above and beyond before, during and after the tournament.
"We can't wait to welcome everyone and get underway."
The 2023 Oceania Challenge will be held from 14-17 April at Blockhouse Bay Bowling Club, Auckland.
Men
New Zealand U26
Aotearoa Maori
Niue
Tokelau
Fiji
Tonga
Norfolk Island
Cook Islands
Papua New Guinea
Samoa
Women
New Zealand U26
Aotearoa Maori
Niue
Tokelau
Fiji
Tonga
Norfolk Island
Cook Islands
Papua New Guinea
— Bowls NZ & World Bowls