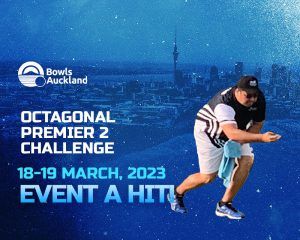 Eight centres from the upper North Island – Auckland, Bay of Plenty, Counties Manukau, Far North, Northland, North Harbour, Thames Valley and Waikato took the initiative to set up the inaugural Octagonal Challenge for developing players. Hosted by Auckland at Howick Bowling Club, this Octagonal Challenge was a prime opportunity for developing bowlers to experience the atmosphere of competitive bowls.
The tournament was a reminder of the good ole days of All Black tours when the "dirt trackers" would take on the leading provincial side for the opportunity to press for test selection!
At 7:00am on Saturday morning, we were faced with three flooded greens. Greenkeeper Paul Hickey and his band of trojans set about screeding off the water. By 8:45am, the greens were marked, and trial ends began. What a miracle those trojans worked! The format was a round-robin, with sides consisting of Singles, Pairs and Fours.
After Day 1 (Round 4), Bay of Plenty, Northland and Auckland lead the combined scores. Day 2 saw some of the top teams pitted against each other and whilst the order changed, the competition among the other teams remained fierce – which prevented any surprise bolters.
The final standings were: First – Auckland, 22 points; Second – Northland, 20 points;
Third – Bay of Plenty, 18 points. 
Irrespective of the centre standings, there were some noteworthy team performances, and if a dream team were to emerge, our picks would be:
Women's section
Singles – Philly Akaruru from Auckland had seven straight victories.
Pairs – Bay of Plenty mother and daughter pairing of Angela Stephen & Caitlin Thomson won six in a row, only to fall at their last game.
Fours – Counties Manukau foursome of Jane Brown, Sheryl Brownlee, Moi Purea & Alice Riedel also went unbeaten with a record of 7-0.
Men's section
Singles – Daymon Pierson from North Harbour had the perfect 7-0.
Pairs – The combination of Mike Reddy & Chris Smith from Far North won four from seven. 
Fours – Auckland's Kevin Beasley, Adam Blucher, Craig Harold & Vili Fifita lost their first game, then went on to win the next six.
Overall it was a very successful inaugural tournament and the feedback we have received so far from centres indicates this event will be the first of many!
Special thanks to Howick Bowls and its members for their superb hospitality, umpires Jamie Chen & Amy Cheung, and of course a big bow to all eight centres for attending – without your players we wouldn't have had such a great event.