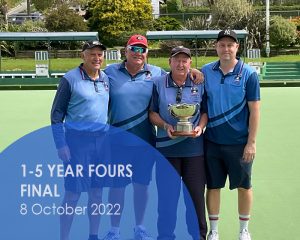 The 1-5 Year Fours Final was played last Saturday at Remuera Bowls, and as we had beautiful conditions, the teams chose to play outside. The match-up saw Howick's David Weir (S), Mike Dickie, Greg Dowdell and Bruce Fenton take on Blockhouse Bay's Jim Hunter (S), Herbert Lelo, Neil Prendiville and Colleen Short.
Blockhouse Bay scored first with a three, Howick replied with a five – a steady arm wrestle ensued, the teams trading ones and twos and the scores remaining tight. On the 10th end, Blockhouse Bay scored a three to lead 13-7. 
Howick then played their "get out of jail" card and replied with a six, a two and another two to lead 17-13 after 13 ends. Blockhouse Bay then scored one on the 14th end to get a glimmer of hope at 14-17 down, playing the last end. 
Both teams showed why they were worthy finalists with excellent play during that last end. Blockhouse Bay went on the offensive and on two occasions held the required four shots, only to see Howick respond with some superb draw bowls and reduce the count to one or two.
With his last bowl of the match, Jim Hunter went for the risk-and-reward shot, hoping to snare the jack and drag it to the ditch for four. Alas, his bowl took a wicked turn on the green and nicked the jack on the wrong side to see it skitter to four Howick bowls.  David Weir didn't need to play his last bowl, Howick took the win 21-14.
Congratulations to both teams on a wonderful display of bowls. Thanks to Peter Bennett and Remuera Bowls for the venue and the hospitality.