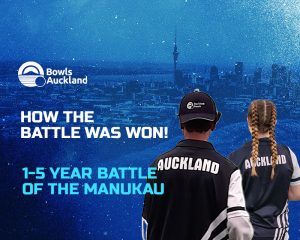 Auckland vs Counties
16 April 2023
This tournament is for 1-5 Year Rep squads of Auckland and Counties Manukau. Each Centre lined up squads of 12 men and 12 women to do battle on the greens in Fours, Triples and then Pairs. A random draw was done before the commencement of each discipline.
Looking across at the scoreboards after two-thirds of the games in each discipline were played, the honours were evenly spread; however, Counties Manukau players would then lose focus and drop a silly four or even five, thus giving Auckland hope. Fair credit to the Auckland teams, they never gave up, and that was reflected in the final score.
The Women's Triples game on Rink 1 exemplified this closeness. Counties Manukau's Skip and Wendy played exceptional bowls and constantly drew touchers and saves close to the ditch.
Heading into the penultimate end CM held a one-shot lead. After some close bowling by both teams, with her last bowl, Auckland's Andrea Wilson picked the jack cleanly from a tight bunch and settled in the ditch for two.
Auckland's Lead was able to dictate terms and then a short end. CM players struggled with the wind and saw their six bowls – all land one metre past the jack. God was kinder to the Auckland players and turned the wind down for them and they scored a deserved two to take the match 16-13.
Another example of tenacity was Auckland's Sarah Childs. In her Pairs game, she was down 12-14 with one end to play. With fading light, blustery winds, and a parochial crowd against her, Sarah held her nerve to draw two 'almost' touchers and secure a draw.
I was honoured to award the Battle of the Manukau trophy to the Auckland team captains.
I must declare a conflict of interest in this report given that my mother (Tilly van der Hulst) is a Life member of Counties Manukau whereas I am Convenor for Bowls Auckland for this event. Perhaps next year, my mother will also be in attendance to award the trophy!
— Gerard Hulst
And now from Peter…
A comprehensive victory over Counties Manukau on Sunday capped off a very successful year for the Auckland 1-5 Rep team. Playing rounds of fours, triples and pairs, a number of new combinations were tried, along with proven combinations from previous events. The team coped well in the windy conditions and proved way too strong for the less experienced Counties team. Some new players were included in the team and they all played really well, giving some confidence for next season.
I personally would like to thank all the players for their attitude and commitment over the season. Also, I would like to acknowledge Co-Selector Gary Cotton, Co-Coach Les Smith and Team Manager Chris Staples and thank them all on behalf of the players as well as myself. Thanks also to the Bowls Auckland staff for their support and help over the season.
Some long-time squad members played their last 1-5 Rep fixture and I would like to wish them well in the Senior ranks next season. The players being Daryl Mackie, Andrea Wilson, Karen Spels, and Pippa Hassel, along with David Motu and Liam Hill who were on Oceania duty last weekend.
— Peter Blucher