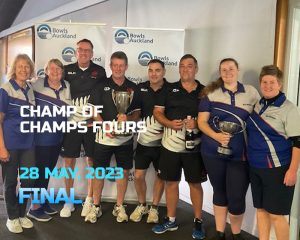 The Fours was the final discipline in the 2022-2023 Champ of Champs series, in what would deliver oohs and aahs along with the highs and lows of this addictive sport!
Without a doubt, it has been an exciting series, and the calibre of the competition has been thrilling – with many matches going right down to the wire! 
Interestingly, this series has had a great representation of club champions.  It's not just the prominent players/teams and clubs going onto the winner's podium – the titles have been spread.
Men's Fours Final: Royal Oak 16–9 New Lynn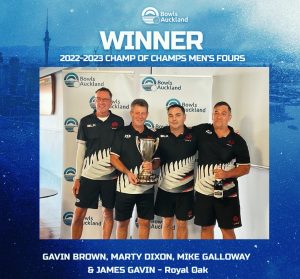 Looking sharp in their club uniforms it was bittersweet for the dynamic Royal Oak Four (Gavin Brown, Marty Dixon, Mike Galloway, James Gavin) to win the championship title on home turf. 
The Rockets did not have it all their way. New Lynn (Gary Dougherty, Keith Hansell, Bruce Walter, Adam Wishnoski) were first to score and kept their nose in front until the 7th when Royal Oak picked up a two to level the score 7-7.
Royal Oak applied the pressure keeping New Lynn scoreless for the next four ends.  It's 7-11.  New Lynn wasn't giving up. By the end of the 13th, it's 9-11. 
Royal Oak scored two in the 14th and three in the 15th to secure the match 9-16, much to the cheers of their avid supporters. 
Women's Fours Final: Balmoral 23–5 St Heliers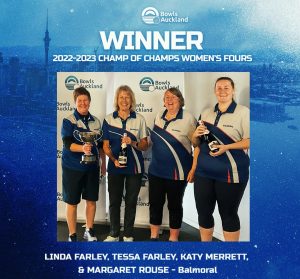 Both teams looked relaxed entering the Finals. 
Balmoral came off a win against the home side Royal Oak, 16-7 in one semi-final, and in the other semi-final, St Heliers defeated Pt Chevalier, 14-10.
Balmoral (Linda Farley, Tessa Farley, Katy Merrett, Margaret Rouse) took St Heliers (Catherine Bien, Julie Keven, Bet Leung, Angela Longney) by surprise in the Finals match. 
While St Heliers were first to score and were leading 2-5 after the 4th, they couldn't make any headway. 
Balmoral picked up five in the 5th to push ahead, 7-5.  The Balmoral team had settled into their rhythm and continued to push ahead leaving St Heliers scoreless for the remainder of the match.
Balmoral secure the championship title, 23-5.
It was a great Final to close out the 2022-2023 calendar. 
Congratulations, Royal Oak, and Balmoral, who go on to represent our region at the National Fours Finals played on 21-23 July, being played here in Auckland.