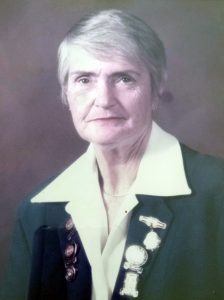 Auckland Bowls would like to acknowledge the passing of Thelma Sandstad on 25 September 2021, aged 91.
Thelma, a Life Member of both Auckland Bowls and Carlton Cornwall Bowls, had a long association with lawn bowls.  Having been a player for numerous years, her passion for the game led her to become a coach, an umpire, a club & centre administrator. 
Thelma was a dedicated member of the Auckland Women's Umpire Association.  Jean Ashby, Life Member of Bowls New Zealand says, "Thelma was an excellent umpire.  She was articulate and quite particular the rules were being followed correctly."
"Thelma was an active member of the club," says Alan Crowe from Carlton Cornwall Bowls.  "Thelma was President of the Carlton Women's Bowling Club during the 1987/1988 year and later in 1994 became a Life Member.  While we hadn't seen her at the club in recent years, I recall she was a great coach.  She would put first-year bowlers through their paces and setting them on the right track".
We thank Thelma for her dedication and contribution to the sport of lawn bowls.
Thelma Sandstad
11 July 1930 – 25 September 2021