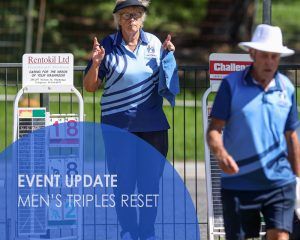 EVENT UPDATE
Bowls Auckland's Board and Operations Committee have agreed to change an event in the 2022-2023 Playing Programme. The Men's Singles scheduled for mid-February has been cancelled and will be replaced with the Men's Triples, which was not played in November. This reset will enable us to run the Men's Triples alongside the Women's Triples on 18 & 19 February.
In summary, the main reasons behind the decision are:
to help alleviate the burden on natural greens and host clubs in a season that continues to have problematic weather conditions (Triples require fewer venues).  
many players have just competed in the National Singles, so this event is an opportunity to offer a Centre Event in a discipline that is not offered nationally.
to provide consistency in the Men's and Women's programmes (both playing Triples in favour of Singles). 
to encourage more people to play bowls.
It is not easy to make such a change & we understand it may not suit some of our valued players, but we are confident this is the best decision given the current situation.  We look forward to delivering two fantastic Triples tournaments.
Updated information on upcoming events can be found here.
ENTRIES OPEN FOR MEN'S & WOMEN'S TRIPLES
We are excited to open entries into both competitions to be played on 18 & 19 February and for the first time entries will be taken through BowlsHub.
Here is what you need to know:
Please nominate one contact person in your team to complete the entry.
The contact person will need a BowlsHub profile to enter.
The entry must include the names of all three players.
Entries close on Monday, 6 February.
BowlsHub profile:
If you have one already, great. Just sign in and complete an entry as usual.
If you don't have a profile, it's easy – click on this link and follow the instructions to join. Please note you will need an email address.
Should you have trouble setting up a profile, you can enter by using the guest entry link for either the Men's Triples or the Women's Triples.
For those who entered the cancelled Men's Triples event in November, you will need to re-enter for this one. However, if you have credit still owing, it can be used. To activate your credit, please email [email protected] before entering.
We are here to help so please contact one of our Bowls Auckland team if you are experiencing any issues.