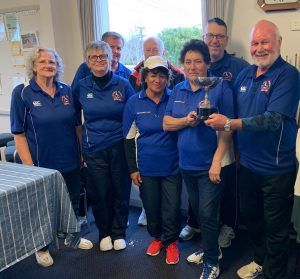 It was a hard-fought battle for the West Auckland side, their first match of the day against neighbours -last years Champs – Pringle Park Thunder, ended with a game apiece and equal net total of shots, an extra end was played to determine the quarter-final win, the Roosters taking it 4-2.
On to the semi-finals and again our champs had some tough competition as they took on Mt Albert and you wouldn't read about it… A game apiece and equal net total of shots and an extra end to play. Te Atatu taking the win and their spot in the final 4-0.
The Final saw Te Atatu Roosters take on Royal Oak Delta. Of interest, both our finalists were next best non-section winners, showing the calibre of the competition this season.
Royal Oak Delta had a slightly quicker run to the Final winning both matches in their quarter-final against Howick Red and then winning their semi against Onehunga & Districts on net total of shots.
On to the Final and the chilly temps we'd had all day got chillier. Both sides a little cold and weary got straight to it and some great bowls were played. The Te Atatu Roosters didn't let the extra ends in their previous games faze them and fought through to win both matches 25-18 and 26-10. Congratulations to Barry Aspin, Marise Taiaroa, Marion Hakaraia and Kevin Piper. Brendan Kelly, Robyn Reihana, Peter Blucher and Diane Moore a well-deserved title for Te Atatu Peninsula Bowling Club.
Thank you to our hosts for the day Epsom Bowls and to our Umpire Graeme Clisby. A very big thank you to all the spectators and supporters, again we had a good crowd, even with the winter chills!