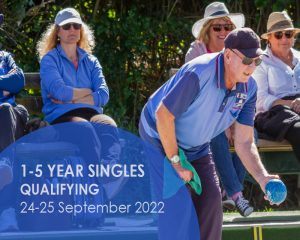 1-5 Year Singles
24-25 September 2022
With 70 entries spread over five venues, it is hard to comment on any particular game or section.  Suffice it to say, I was pleased to see Codi Lockie of Carlton Cornwall qualify for post section.  It was also good to see Mark Cameron from Ponsonby entering the tournament.  There were some surprise results with Liam Hill of Onehunga & Districts dropping his second game to Zak Buckingham of Mt Eden. Liam would go on to win his last match and qualify, whereas Zak's fortunes waned. At the end of a long day, we had 34 qualifiers.  
Post section was going to be busy, we needed to play out the Rounds of 64, 32 & 16. It meant those playing at St Heliers had the luxury of only playing two games.  A small bonus considering they had to get up earlier with the start of daylight saving!
There were some close games and some surprising results.  The eight quarter Finalists are:
Game 1: Steve Fisher (Royal Oak) to play John Vujnovich (Pringle Park)
Game 2: James Forsyth (O & Districts) to play Brett Christie (Carlton Cornwall)
Game 3: pale Luka (Papatoetoe HC) to play Steve Campbell (Pt Chevalier)
Game 4: Warwick catchpole (Epsom) to play Prakash Ranchhod (Papatoetoe HC)
The Finals will be played on a date and time to be mutually agreed on between players.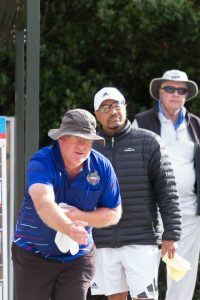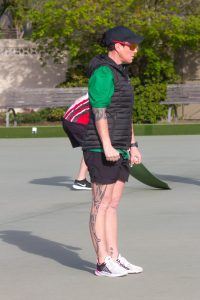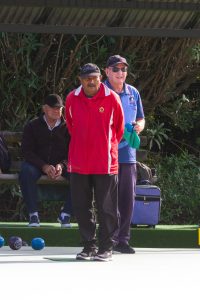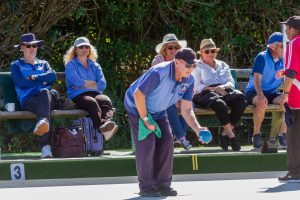 There were 24 entries spread over two venues. Talk about having some close games. For me, the match of the day was between Hannah Dawson of Pakuranga against Rebecca Brosnan of Royal Oak. What struck me about this game was the tenacity of the draw. Neither player ran or drove at the head, rather they backed themselves to draw out of trouble. Even though Rebecca would eventually win the game, both players would go on to qualify for post section – 13 players qualified. 
Round 16 Game 4 saw Jo Crooks of St Heliers up against Lisa Appleyard of Kohimarama. Lisa started off well but found herself 6-13 down after 12 ends. Undeterred, she produced some fine bowling to see the scores tied at 16-all after 18 ends. Lisa managed to keep up the pressure to eventually take out the win 21-19.
Quarter Final Game 4 saw Rita Bradnock of Onehunga & Districts up against Andrea Wilson of Papatoetoe HC. This was a tight match all the way. When the bell rang for time, the score was 16-all. The drama continued at tie break end – the umpire was called for a calipers measure when the final bowl was played. The shot and the win went in favour of Andrea.
Semi-Final 1 saw Rhonda Thompson of Bridge Park up against Skye Renes of Pt Chevalier. Skye showed early dominance and led 17-7 after 15 ends. Rhonda began to fight back, she closed the gap to 15-18 on the 21st end. Skye held her nerve to go on to win 21-16.
Semi-Final 2 saw Jeanine Browne of Carlton Cornwall up against Andrea Wilson of Papatoetoe HC.  The game hinged on two crucial ends. On the 14th, Jeanine was holding three. 
Andrea played a weighted shot, picked out the jack clean, and sat in the ditch. Jeanine drew close to secure second. However, with her last bowl, Andrea drew to the plinth for two. On the 15th end, Andrea had bowled four short. With the last bowl of the over Jeanine looked to move the jack to her back bowls. Cruelly, she was a touch heavy and did not collect the jack cleanly, it hit one of her bowls and rebounded up the rink for Andrea to score three. That left the score at 20-8. Jeanine kept her composure and made Andrea fight hard for that final point, which she eventually secured on the 18th end.
Like the Men's, the Finals will be played on a mutually agreed date and time.
Check qualifying results here.