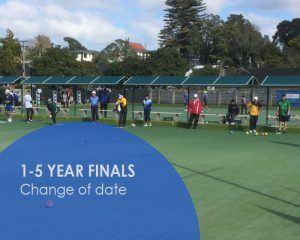 The Operations Committee is trying to deal with the logistics of organising a fair 1-5 Year Finals.  Owing to:
a large number of entries in the Singles,
the current duplication of players in the Fours and Pairs Finals,
and the uncertainty of who will qualify for the Triples.
The Operations Committee has decided to utilise the public holiday of 26 September as a Finals day with the Pairs being scheduled for this date.  In addition, we may be able to play the Triples Final or some of the Singles Finals, depending on who qualifies. Note – time will be set aside on 26 September to recognise Queen Elizabeth's holiday.
The Fours Final will be played on the 8 or 9 October, as well as other disciplines depending on who qualifies. If need be, the balance of the Finals will be played on 15 or 16 October.
We will have a better idea of logistics and venues after this weekend's games when the Triples finalists are known.