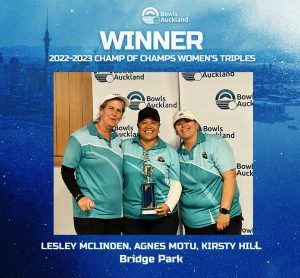 Women's Triples Final: Bridge Park 19–17 Te Atatu
Men's Triples Final: Te Atatu 16–10 Pt Chevalier
If the earlier Singles & Pairs championships Finals were anything to go by, the Triples would be a humdinger… and it was!
The competition on the green undercover at Royal Oak is magic, and so too is the waft in the club room that sends the sensory buds into overdrive – something is cooking! Who wants to eat? Cheese scones, date scones, toasted sandwiches, hot chips, filled rolls – we'll take one of each, please!
Yummy food was just one aspect of the magical hospitality at Royal Oak Bowls during the Champ of Champs Triples.
Surfs up at Te Atatu
They are certainly riding the crest of a wave at Te Atatu Peninsula Bowling Club.
Following on from their recent Bowls 3Five team finishing runner-up at the National Finals, both their Women's and Men's teams made their way into the Finals of Bowls Auckland Champ of Champ Triples.
Behind 0-8 early to Bridge Park (Kirsty Hill, Lesley McLinden and Aggie Motu), the Women's team (Marion Hakaraia, Lauren Mills and Robyn Reihana) came back to level the score before being denied in the final end.
The Men's team (Peter Blucher, Brendon Kelly and Adam Blucher) got off to a flyer against Pt Chevalier (Aiden Takarua, Harry Davis and Colin Williams) and maintained a good lead through to the end.
It's the first Auckland Centre title for all three Te Atatu players, capping off a good weekend for the West Auckland club.
It was an emotional day for Peter and his son Adam (17), winning their first Centre title together. They have been playing the Auckland scene together since Adam was 12, with some success but not cracking any Centre titles until last weekend.
Peter said, "I've been playing for years now, and it is a great thrill to finally get there with Adam and also with a good mate in Brendon."
"Last season, over a few beers (Coke for Adam), we decided for me to lead this year and put our faith in Adam's rapidly developing game as our Skip, and to accomplish our target was very satisfying."
"We had two close games today against very good teams (Royal Oak and Grey Lynn), so we went into the Final confident we could give it a good shake even though our opponent (Pt Chevalier) was stacked with very well-performed players. Our girls had only just lost their Final, so I suppose we were on a bit of a mission."
Bridge Park and Te Atatu Peninsula will be travelling to represent Auckland in the National Finals in Dunedin. Can Te Atatu continue to ride the wave? That remains to be seen!