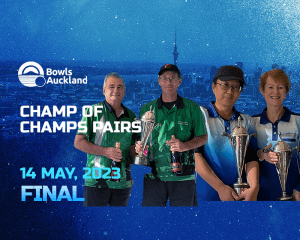 CHAMP OF CHAMPS PAIRS FINALS
14 MAY 2023, REMUERA BOWLS
Women's Pairs Final: St Heliers 20 – 11 Glen Eden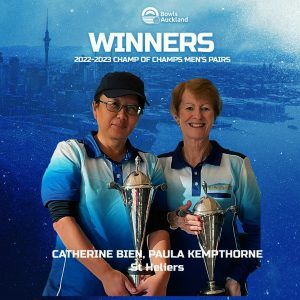 "It was going to be a bit of a daunting task being Skip", said Paula Kempthorne from St Heliers.  Paula's normal Pairs partner Sue Curran had surgery on her hand and was substituted with Catherine Bien. 
"Catherine and I know each other well, but we still had to adjust our play and find our playing tempo.  Of course, the knock-out format meant the first game was crucial." 
Paula and Catherine were up against Judy Raill and Lyn Lopez from Glen Eden in the Finals. 
At the end of the 7th, Judy and Lyn are down 1-9.  Glen Eden's Tournament Manager, Sharon Stewart commented, "Catherine and Paula are on today, those first couple of heads were so tight. It's an amazing match already."  Sharon adds, "Incremental one-pointers against you and then dropping a four doesn't get you ahead."
From there Glen Eden started to add points to the scoreboard, by the end of the 12th it was 7-10.  St Heliers hit back with a 2, 3 & another 2, they are ahead, 17-10 at the end of the 16th.  
Paula remarked, "Each match had its challenges, so there were some 'here we go' moments.  The scores didn't reflect the competitiveness and closeness of matches – they could have gone either way. Overall, we really enjoyed the weekend, we've played against many of these bowlers so there is great sportsmanship amongst everyone."
It was a brilliant match, congratulations St Heliers, and well done Glen Eden!
Men's Pairs Final: Pt Chevalier 17 – 13 Epsom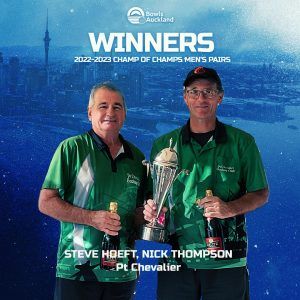 Epsom's duo of Mark Connor and David West (fondly known at their club as Cocka and Westie) were a bit of an unknown combo compared to some of the other Pairs' teams competing over the weekend.  In the Round of 32, they won knock-out matches against St Heliers, Ellerslie, Te Atatu, and Bridge Park to take their place in the Finals.
Bryce Mackie from Ellerslie commented on their Round of 16 match against Epsom "We had a pretty good start.  Epsom picked up four in the 6th which had us level-pegging until we scored five in the 11th.  From there Epsom kept us on a tight leash, and we scored our last point in the 13th".  Bryce's teammate James Gavin went on to say, "Their skip Mark played some telling conversion shots.  The game turned for Epsom when they scored four in the 16th – it was a great match."
Pt Chevalier's Steve Hoeft and Nick Thompson are a familiar team on the green.  They are known for their versatility to play in either position depending on who their opponents are. 
Their road to the Final and to victory was paved with wins against Kohimarama, Glen Eden, Auckland Bowling Club, and Henderson.
Epsom started strong they had the Pirates on the back foot right from the start.  
Steve and Nick were down 1-6 after four, and 3-9 after seven.  From there they began to claw their way back into the game. 6-9 after the 9th, 10-12 after the 10th.  It was level at 12 each after the 14th then Pt Chevalier nudged ahead to take the win 17-13. 
What a finals match – congratulations and yeehar Pirates!  Well done Epsom it was a great competitive battle.
Steve Hoeft remarked ''All our games over the weekend were very tight.  The Final required a lot of concentration, especially having to come from a deficit to win 17-13."  Nick Thompson said, "The crowd support in the Final was amazing, there was plenty of encouragement for both teams."
While the finalists were the stars on the day, hats off to Remuera, Ponsonby, Maraetai, and St George, we don't get to see you much but we're so glad you participated in the championship, and we look forward to your participation at future events.
As always, a big thank you to:
Host clubs: St Heliers, Royal Oak and Remuera.
Officials: Les Smith, Phil Bowden, Lorraine Beazley and Gwen Ng