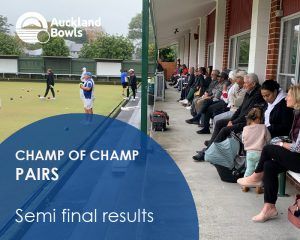 Well done to all the teams competing in yesterday's section play.  Maraetai Bowls again making their appearance by fielding their first Champ of Champ Pairs team in a long time and making it through to the second round.  
The rain has made an appearance at headquarters Papatoetoe Hunter Corner for today's semi-finals and finals post section play, but not enough to stop the matches being played.
Paris Baker and Olivia Bloomfield from New Lynn charged out from the start leading 15-3 after eight ends and kept totally in control to win 28-5 against Maria Smith and Rima Strickland from Royal Oak.
Judy Riall and Jenny Tough from Glen Eden were also quickly out the blocks leading 15-4 after 10 ends.  They comfortably won 25-6 against Robyn Reihana and Marion Hakaraia from Te Atatu.  The Te Atatu pair say they are still looking for their zing!
The Women's final will be a cracker of a game with both teams looking in ominous form.
The match between Leif Selby and James Williams from Carlton Cornwall and Jordan King and Chris Lowe was a closely fought battle and could of gone either way,… the quality of bowls at its best!  Carlton Cornwall won 15-14.
Warwick Frederikson and John Geaney from Blockhouse Bay played Don Faifua and Darral Gordon From Otahuhu Railway.  Another close game all the way through to the final end.  At the 18th end a measure gave Otahuhu Railway the shot taking it to an extra end.  However Warwick held shot and won.
Here are the semi final results
Champ of Champ Pairs Men
Champ of Champ Pairs Women