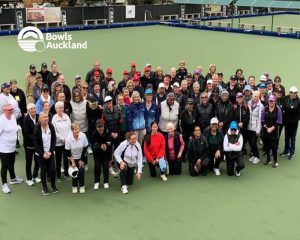 12-13 August 2023
ABCA's coaching series held across six zones in the Auckland region during June and July has been hugely successful. The coaching series is all about upskilling players who are new and in their first five years of lawn bowls. 
Following the coaching sessions, the Zone coaches select players to compete in the annual Canoe and Campi Tournaments.

Campi Cup
–Weng Lim
78 women gathered at Epsom Bowling Club for the two-bowl Triples event, where each team consisted of players with a maximum playing tenure of 10 years.  Starting with a live draw on Saturday, day one consisted of four games with day two having three games – each game consisting of a one-hour, 20-minute time limit.
The positions of the teams were decided by the number of games won, followed by the number of ends won, net total of shots, and the least number of shots against. Ranking of the teams was done after every round and displayed on the board. 
Day one results showed three teams won all their games, one team had three wins and a draw, and four teams with three wins.  Day two started with fierce competition amongst the teams, the top three remained, but the position changed due to the number of ends won in the fifth round.  Then, two of the top three teams played each other in the next game, and the loser slid down to third place with one round to go.  All three teams continued with their fine performance and won their final game.
The results were:
Winners:  Lana Dowdell, Robin Reeve and Hannah Dawson – South-East
Runners-up: Shelley McCabe, Linda Mirabelli and Ting Ting Ip – South-East
Third: Andrea Wilson, Lee Singer and Nicole Singer – Central.
We had the honour of having Bev Campi on hand to present the prizes.  An avid lawn bowls supporter together with her late husband, donated this trophy many years ago.  She gave a short speech, encouraging all the players to continue doing well in this sport. Thank you, Bev.
Canoe Cup
–Les Smith
Saturday was a fine but cool day at Bridge Park Bowling Club allowing the 30 teams entered to battle it out over four rounds to make it into the top eight.  Only four teams managed to win all four of their games.
A blind draw was conducted on Saturday afternoon to match up opponents for the knock-out main event.  The remaining 26 teams drew a random tournament card on Sunday morning to decide who played who over four rounds.
Sunday saw all games start in a misty drizzle which soon burned off to provide another cool and sometimes cloudy day.  The competition was fierce in both sections.
The first-round losers from the main event went through to the Plate thus keeping all 30 teams competing for prize money. The second round of the main event was equally competitive with all teams eyeing the Canoe trophy as their goal.
The Final came down to a Southern Zone team from Counties Manukau versus an Auckland Central team.  Counties had the early running, building up a six-point lead in the early ends.  The Central team slowly found their line and length to eventually even up the score with just a few ends remaining. Central hit the lead and didn't allow Counties to score again.
For two of the Central team, lead Steve Fisher and the brilliant David, this was their second consecutive win.  Completing the team were Ryan Hill at two and Zoran Bartulovich at three.
The results were:
Canoe Cup
Winners: D Motu (S), Z Bartulovich, R Hill, S Fisher – Central
Runner up: M Wesche s), D Parker, D Burns, M Wilmer – Counties
Flyte
Winners: D Weir (S), S Campbell, C Hand, M Andrews – South-East
Runner up: W Catchpole (s), J Amadia, D Vince, E Tutai –  Central
Plate
Winners: JC Fuller and team – West
Runner up: S McCamish and team – South-East
Congratulations to all the winners and thank you to all the players who participated.  To our hosts clubs Epsom Bowling Club and Bridge Park Bowls thank you for all your help and for taking care of everyone.
Also thank you to all the coaches who gave their time and effort in training the 1-5s over the last eight weeks.
We hope to see many of you continue to play and use your newfound skills by entering in this season's 1-5 Year events, starting with the 1-5 Triples in mid-September.