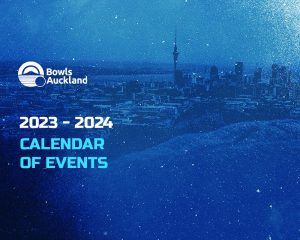 Bowls Auckland 2023-2024 Calendar of Events is now available!
The Calendar of Events is integral to our season – it's a vital resource for clubs and players to chart out who's doing what and when.
It is a big undertaking to deliver the right balance for everyone. So, we have been busy consulting with and working alongside the various groups in our bowling community to develop the new season's programme.
In developing the Calendar – we have:
listened to feedback from greenkeepers to alleviate congestion early in the season – therefore pushing some tournaments to a later date,
undertaken a Player Survey – 130 respondents gave their insight and thereby guided us on some events,
29 clubs were represented in two club delegate forums, who provided their views on the programme and the format of the events,
conferred with Bowls NZ on their national programme to ensure there weren't any clashes, and
worked with eight regional zones to develop a representative schedule.
Summary of changes:
1-5 Year disciplines are now spread across the season rather than all being in September. Triples and Pairs will be played early in the season to give first-year bowlers a chance to play in team events and to gain more experience and confidence before transitioning to the Singles later in the season.
we will continue with the status quo for Pennants, but we will supply more information about the format and the points structure.
Women's Open Premier Singles has been bought forward to late September.
Jarden Open 2-4-2 Mixed Pairs is reduced to a two-day event.
Thanks so much to the clubs, players, and greenkeepers who contributed to the consultation process.  Thanks also to Bowls Auckland Operations Committee for listening and leading the conversations.
We may not have got everything right, but hopefully, we have shown our willingness to listen and have made improvements to the Calendar that will have a positive effect this season.
Click here to view the 2023-2024 Calendar Events