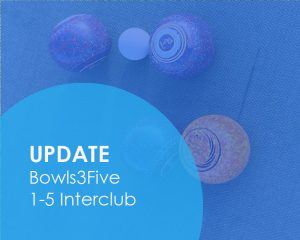 As a result of the unexpected news that Auckland would remain in Alert Level 3.2 until Friday, 3 December, our Operations Committee has met today to review playing dates. 
They have done their best to rearrange the playing dates for this event to allow maximum participation by all bowlers.  As a result, the dates have been rescheduled to include Tuesdays and Thursdays, with the event qualifying days on 7, 9 & 14 December, followed by the Finals on 16 December (the original scheduled date). This also frees up Tuesday 21 December for your Christmas celebrations. 
The venues are currently being arranged and the draw should be available on Friday 26 November. 
Event documents:
Bowls3Five 1-5 Interclub-special COP
Bowls3Five 1-5 Interclub-event procedures
Thanks for your patience, we wish you all good bowling.