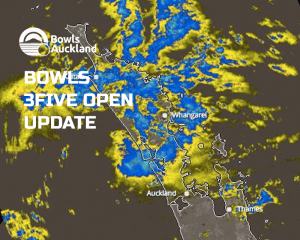 The last few days have been exceptionally difficult for many in Auckland, and we send our best wishes to those affected by the floods.
Given Auckland is in a State of Emergency for the fourth day and a heavy rain warning issued by the Met Service for Tuesday evening, Bowls Auckland and its Operations Committee believe it is in the best interest of all involved to postpone rounds 3 and 4 of the Bowls 3Five Open.
The good thing is that we have a built-in Reserve Day, so no bowls will be lost – touch wood!
The revised schedule will be. 
Tuesday 7 February – Rounds 3 and 4

Tuesday 14 February – Rounds 5 and 6 

Tuesday 21 February – QF, SF and F 
We look forward to getting back on the greens as soon as possible!  
Keep safe everyone.