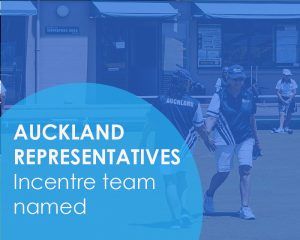 Congratulations to those players selected for the National Intercentre Tournament.
This year's format has been changed by Bowls New Zealand to a Regional event due to the ongoing COVID concerns from many of the centres competing, which was to have been held at North Harbour, this week.
Auckland will now be playing against the Far North, Northland and North Harbour hosted at Mangawhai Bowling Club on Sunday. The Regional winners will then compete in the Nationals that will be played in Wellington on 15 & 16 October.
The six regions are:
Region 1 – Far North, Northland, North Harbour & Auckland.
Region 2 – Counties Manukau, Thames Valley, Waikato & Bay of Plenty.
Region 3 – Gisborne East Coast, Hawkes Bay, Manawatu & Wairarapa.
Region 4 – Taranaki, Wanganui, Kapiti Coast & Wellington.
Region 5 – Nelson, Marlborough, Buller, West Coast & Canterbury.
Region 6 – South Canterbury, North Otago, Central Otago, Dunedin, South Otago & Southland.

Auckland Men's Open Prem 1
Singles: Tony Grantham
Pairs: Mike Galloway (S), Alex Reed (L)
Fours: Gary Lawson (S), Jamie Hill (3), Aiden Takarua (2), Nick Thompson (L)
8th team member: Adam Wishnoski

Auckland Women's Open Prem 1
Singles: Kimberley Hemingway
Pairs: Ashleigh Jeffcoat (S), Linda Ralph. (L)
Fours: Karen Hema (S), Lisa Prideaux (3), Judy Raill (2), Jenny Stockford (L)
8th team member: Estelle Hickey
Reserve player: Sue Curran
Long-serving Auckland representatives with numerous NZ Open and Auckland Centre titles behind them, Karen Hema and Linda Ralph combine with the youthful and aspiring Black Jacks, Kimberley Hemingway and Ashleigh Jeffcoat as part of the 2022 Auckland Women's Open Prem team.
Lisa Prideaux, another Black Jack squad member and former NZ Pairs title holder brings her international expertise to the representative side. 
Estelle Hickey, part of the winning 2019 Auckland Intercentre team will be the 8th player, bringing her wealth of experience in all disciplines of the game, if changes are needed.
Newcomers to the Open Prem 1 team, Judy Raill and Jenny Stockford secured their places in the team after Auckland's success against Northland, North Harbour and Counties in last Sunday's Rep Quadrangular Series at Browns Bay.
Jenny Stockford (Pt. Chev) and Judy Raill (Glen Eden) have come through the Auckland junior rank and excelled anchoring the Pairs win for Auckland in the National 1-8s under late Coach, Diana Smith. Both players attribute their success to the team spirit created in those years. Current Selector, Diane Harris recognised their talent and has included Jenny and Judy in the team that takes on North Harbour and Northland in the Regional Finals this Sunday, in order to win back the coveted National Intercentre title to be held later this year.
Good luck to all players for this Sunday.