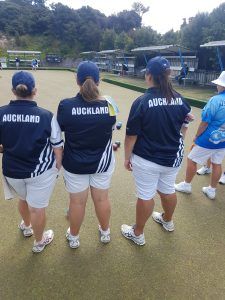 The Auckland and Counties Manukau Women's teams travelled together to Mangawhai Bowling Club, on Saturday 23 January 2021 to compete against Northland Prem 1 and Prem 2 teams. These games allowed each selector from Northland, Auckland and Counties Manukau to look at combinations in order to name their respective teams for the National Intercentre which is being held on 18 March 2021, in Wellington.
Tricky wind conditions made it challenging for all of the teams; disciplines of singles, pairs, pairs and fours were played.
The Auckland team, the current National Intercentre champions, started off the blocks well, equal with Counties Manukau after the first two rounds on 15 points each – Auckland just ahead on shots.
Northland Prem 1, the previous Intercentre winners, showed their experience by gaining valuable points in the last round. We had some fiercely fought games in the third round. Auckland versus Counties Manukau saw the Auckland singles and pairs teams have great wins.
Auckland was the overall winner with 24 points, Northland Prem 1 with 19, Counties Manukau with 18, Northland Prem 2 with 10.
Well done Auckland.  For your interest, here is a link to the summary scorecard