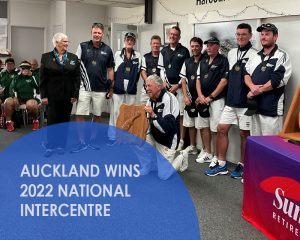 National Intercentre 2022 
15-16 October 2022
Congratulations, Auckland is crowned Men's National Intercentre champions for 2022.
Wearing the Auckland colours of navy and white, Mike Bradshaw, Martin Dixon, Mike Galloway, Tony Grantham, Jamie Hill, Aiden Takarua, Nick Thompson, and Adam Wishnoski were in great form throughout the weekend. The Men's section comprised six regional qualifiers from the Bay of Plenty, Hawke's Bay, Wellington, Marlborough & Southland.
At the end of day one, Auckland was level pegging with Wellington, each on equal match points & game points. On day two, in the final, Wellington took first blood with a win in the Pairs, while the Auckland Fours landed a big win leaving it to the Singles to determine which centre would be victorious in the title.
It was pressure bowling in the closing stanza for Seamus Curtin and Mike Galloway as their point-by-point scoring inched toward the magic total of 25. Mike was exceptional as he held his nerve, bowling to a win 25-24 – a match befitting a national final.
To Jamie Hill's surprise, he was presented with a Silver Star – congratulations on your achievement Jamie, it was a fantastic way to end the competition.
Thanks to all the players competing, and a special thanks to Wellington for being terrific opponents. Thanks also to Browns Bay for being such a great host.
Click here to view all the results.