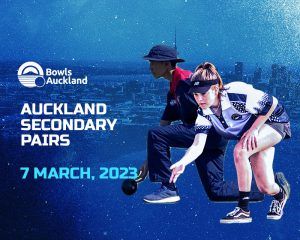 In collaboration with College Sport Auckland, Bowls Auckland held its annual Auckland Secondary School Pairs at Mt Eden Bowling Club. 52 any combination Pairs (a record number) from 11 colleges entered. The format consisted of two bowls each, five games of 40-minutes, that needed to be fitted between 9:30 am and 2:15 pm.
Special credit must be given to the clubs; Glen Eden, Rocky Nook, Auckland Bowling Club, Mt Albert, New Lynn, and Mt Eden that have adopted school/s and set up coaching and mentoring opportunities. These clubs had members attend to support their students – their coaching is reflected in the very high standard of bowls. 
Four teams found it tough going. But, their tenacity to continue to toil in the hot sun is a credit to their sportsmanship. Five teams managed to get five wins, so it came down to NToS with the finishing order being.
First: Kings College – Brian Feng & Allan Tian – plus 53
Second: Kelston Boys – Kade Waaka-Iraia & Pritesh Kumar – plus 39
Third: St Peters College – Dominic Arnerich & Luka Matic-Kennar – plus 35
Fourth: St Peter College – Isikeli Brown & Jeremy Xing – plus 32
Fifth: Mt Albert Grammar Jacob Miller & Samuel Reeves – plus 25
A big thank you to Sally and Pyper from Bowls New Zealand for their assistance with students during the day and for being very generous in handing out lots of cool spot prizes – ngā mihi nui.