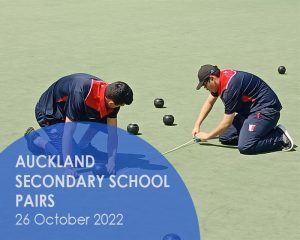 The Auckland Secondary School Pairs competition was played on Wednesday under sunny skies at Mt Eden Bowling Club. The tournament was rescheduled from the COVID-affected timing of March this year. 
The competition is open to secondary schools in Auckland, any combination teams playing five games of two bowl pairs, 10 ends, 40 minutes per game. While numbers were down because of senior school exams, talent was still on show.
For some participants, this was the first time they had experienced competitive bowls, so it took them a few games to settle into a routine. At the end of three rounds, three teams were on three wins. Special mention to the MAGS pairing of Mila Medley and Hannah Moy for scoring a two with their last bowl in round 4 to secure a win.
In Round 5, Joshua Curtis and Adam Blucher from Hobsonville Point Secondary School (HPSS) played against Oliva Reid and Aidan Serrano from Kelston Boys. The Kelston duo got off to a good start and led 4-0 after three ends. Beautiful draw bowls by the HPSS skip saw him save and score. After seven ends it was 3-5. The eighth end was a turning point as the Kelson skip ran at the head but missed, resulting in them dropping three. Good composure by Kelston saw the score level at 6-6 after nine ends. The final end saw both leads deliver excellent draw bowls – it was a measure on the turn. The Kelston skip played a weighted shot and missed snaring the jack by a bowl width. HPSS skip drew his first bowl close enough to take out the need to measure. With his final bowl, the Kelston skip was perfectly weighted but a fraction wide. The win was secured by HPSS.  
Second place was the Kelston Boys pair of Pranay Bhana and Tone Totua.  Third place went to the MAGS pair of Will Blaikie and Oscar Duffy.
Thank you to all the teams participating, it was a fun day and we certainly have some great bowlers in the making. A special thanks to members of Mt Eden Club for providing a friendly and fun environment for all the students, their teachers, and club coaches.